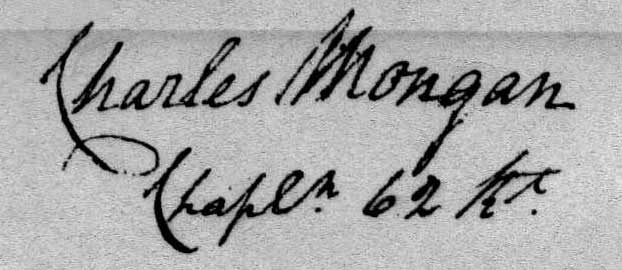 Charles Mongan, Chapln 62 Rt, his signature from the Parole of Honour, 13 December 1777
Nationality: Irish
Born: County Monaghan, Ireland, 1754
Regimental warrant dates:
Deputy Chaplain, date of appointment unknown
Captured: Saratoga, New York, 17 October 1777 (Convention Army)
Promoted into another regiment: Chaplain, 3rd Battalion, New Jersey Loyalists, 1781
Died: "in his palace in Cloyne," Ireland, 9 August 1826
Of all the officers and men of the 62nd Regiment, there is no 'rags to riches' story more compelling than Charles Mongan's.
Born Terrence Charles O'Mungan in 1754, he was the youngest son of the famed blind "poor road-way" bard and harpist, Dominic O'Mungan (1715-ca.1774) of Tyrone County, Ireland. Like his eldest brother Mark, Terrence Charles was destined to study for the priesthood of the Roman Catholic Church and went to France for study. Ironically, as with another officer of the 62nd Regiment originally destined for the priesthood, Louis Joseph, Chevalier D'anterroches, O'Mungan (who became a Catholic Father), experienced a change of mind and abandoned the Catholic Church; apparently due to the outside influences of a powerful patron, he decided to convert to and serve the Church of England instead. In doing so he renounced Catholicism, eliminated his first given name, and anglicizing his surname to Mongan.
The first known reference to Mongan's presence with the 62nd Regiment was in Monckstown, Ireland, 3 April 1776. As Chaplain the Reverend Henry St. George was absent from the regiment, it was noted in the regimental return that "The Revd Mr Mangan officiating Deputy Chaplain and Embarked with the Regiment." Deputy Chaplains were the British army's answer to the phenomenon of regimental chaplains often not serving with their regiments. A ca.1782 letter written by Ensign Daniel Gwynne (9th Regiment) to a fellow officer friend named "Jack," who was apparently interested in the position, explained the situation:

The Stipend of a Deputy (in general) is half a Crown a Day and the Commanding Officer on the spot has a right to appoint one (in the Chaplain's absence) to officiate to to [sic] the corps without consulting or even the knowledge of the Colonel; that I can assure you from my own knowledge as there was only one full Chaplain to the six Regiments that I served with in America [in Burgoyne's army]. I make no doubt of your obtaining Leave of absence from the Colonel of the 17th [light dragoons] upon your applying for it if you find it inconvenient to join. The Gentleman that sells will inform you whether ther ther [sic] is a Deputy in pay—

Reverend Mongan served with the regiment in Canada in 1776 and followed it during the entirety of the Northern Campaign of 1777. He no doubt had much to do after the bloody Battle of Freeman's Farm (19 September 1777), as it was a time in which his spiritual guidance and comfort would have been needed more than ever. After the surrender at Saratoga on 17 October 1777, Deputy Chaplain Mongan joined fellow German regimental Feldpredigers August Mylius (Braunschweig Regiment von Riedesel) and Ernst Philip Theobald (Hessen-Hanau Regiment Erbprinz) on a visit to the rebel camp at Bemis Heights where hundreds of captured wounded British and German prisoners of war were located. According to Mylius in a letter to his father dated 20 November 1777:

The day following the surrender, Chaplain Theobald and I, along with Chaplain Monyan [Mongan] of the 62d English Regiment, were conducted to the rebel's camp to visit our captured invalids. Many of those wounded during the retreat of the flying column had been taken to the camp, but those that we carried off and those who [were] wounded in the entrenchments were in our old hospital, where we were forced to leave them at the retreat.

The rebels' hospital is in a house where I was told Gen. Gates had his headquarters and in some farm buildings. The surgeon, Dr. Paudts [Potts], received us politely. His department was well directed and supplied, and the men reported that they were treated with humanity. Medicines, bandages, and blankets were well supplied, and the surgeons and mates provided good care. Some women were about helping with the care.

As a deputy chaplain, Mongan was in a unique position: as a noncombatant, his status should have allowed for his release from Convention Army status. Cognizant of this circumstance, Mongan wrote to rebel Major-General William Heath, commander of the Eastern Department which oversaw the operation of the prisoner camp (William Heath Papers), on 23 April 1778:

Sir—

From the general Disposition you have manifested to oblige, and the particular Civility shewn my Friend Col. Anstruther, I am induced to make a Request, which I wou'd hope, it is in your power to comply with; as I understand that Clergy, by the Consent of all nations, are never consider'd in the same light of Prisoners nor laid under the sa[me] [con]str[aints] with the Gentlemen of the Sword. However, Sir, I shou'd not wish at this time wither to desert my friends here or trouble you with an application, if my delay in this Country was not likely to be attended with an irreparable Inquiry to my private Circumstances, which I hope will appear evident to you, when I assure you Sir, my future views in Life, depend upon an old Bishop, who is now in his seventy seventh year, and by accounts received since we came to this place, his Health is in a very declining State; so that shou'd it please God to put a period to his Existence, during my absence, the Consequence must prove rather fatal to me—

Thus Sir, have I taken the liberty of laying before you the real State of my private Concerns, and hope sufficient Reason will appear, for requesting your permission to go to England; or shou'd an Exchange be more agreeable to you, by granting a [pass] to Rhode Island or Newyork, I shall endeavour to effect it, and if I fail, shall return to this place at any time you shall may think proper to direct.—

With a full Reliance upon that Disposition, which we have hitherto found so ready to serve, and from the common Indulgence granted those of my Profession, I flatter myself it may be sufficiently in your power to comply with my Request, tho' you might be under the necessity of refusing Officers who bear Arms.—

Shou'd my application be lucky enough to meet with Success, it shall ever be gratefully acknowledg'd by

Sir—

with all due Respect,
yr very Hble Servant
Chas Mongan
Chaplain 62d Regt

Soon after, Mongan (and all other chaplains with the Convention Army) was released by Congress because of his non-combatant status. However, it does not appear that he returned to England as planned; It wasn't long before Mongan met Frances Marston (or Marsden, born 1758), eldest daughter of Nathaniel and Anna (née Van Cortlandt) Marston. Her younger sister Mary (born 1759) had, in 1777, married Frederick Philipse (1755-1829), and was therefore well connected with some of the power families of the Province of New York. Charles Mongan and Frances Marston were able to secure a marriage license from the crown authority of the Province of New York on 18 February 1779, and over the following years had six children: Garnett (died ca.1851), Charles (1781-1855), Augustus-Frederick (1783-1836), John (1786-1873), Charlotte Ann (1789-1842), and Selina (1791-1826).
Although a July 1781 return of the repatriated 62nd Regiment in England listed Chaplain the Reverend Henry St. George on "Kings [leave] having a Depy Officiateing," it seems the regiment's information on the disposition of their deputy chaplain was slightly out of date. According to a letter dated New York, 2 June 1781, Charles Mongan wrote to his new regimental commander, Lieutenant-Colonel Isaac Allen of the 3rd Battalion, New Jersey Loyalists (National Archives and Records Administration, M247; our thanks to Todd Braisted for the following transcript):

Sir,
The Commander in Chief, in consideration of my being deprived of my Living, and other sufferings by the Rebellion, having been pleased to appoint me Chaplain to the Corps under your command, I beg leave to take the first opportunity of expressing the great pleasure I feel in being connected to a Regiment that has the Happiness of being commanded by a man of Col. Allen's amiable character. I much lament that the situation of my family at present admits not of my having the Honor of a personal Acquaintance by joining the Regt. so soon as I could wish & am therefore indulged in remaining for the present at New York.

If I can at any time execute any Commands for you at this place, it will afford the greatest satisfaction to,

Sir,
Your most obedt. Servant
Chas. Mongan

Chaplain Mongan's service with the 3rd Battalion, New Jersey Loyalists was short lived. He returned to regular British service, becoming the chaplain of the 3rd Battalion, 60th or Royal American Regiment on 10 June 1783. This appointment was also short lived, and Mongan was placed on half-pay on 10 October of that year with the disbanding of that battalion. Mongan remained busy in New York in 1783, however; while there, he was one of five chaplains who signed a letter dated 18 October 1783, urging the fulfillment of a "Plan of Religious and Literary Institution for the Province of Nova Scotia" adopted on 8 March 1783 (as a result, the University of King's College and its secondary school, King's Collegiate School, were founded there in 1789 and 1788 respectively). He was also one of 18 chaplains in the city who, on 21 March 1783, signed a plan for the establishment of an Episcopate in Nova Scotia in anticipation of a post-war loyalist American influx.
In 1785, London Bishop Robert Lowth sent Mongan on a one year mission to the Province of Canada to study and report on the status of the Church of England there. Mongan was probably chosen because of his relative familiarity with Canada and the probability that he spoke French. Upon his return to London, Mongan set pen to paper on 1 February 1786 and wrote to a Colonel E. Nepean about his general thoughts and observations on the religious situation in Canada:

Sir,—

From a desire of giving as little interruption as possible, I am induced thus to acquaint you, that, agreeable to your direction, I called upon Dr. Morris [Murice], with whom, and several others of the principle members of the Society, I have had repeated conversations, and to whom I was happy in being able to give some useful information upon the state of our Church in Canada, having spent a year in that Province, during which time, at the desire of the late Bishop of London, I took every pains to make myself acquainted with that subject, the particulars of which I had the honour of transmitting to his Lordship; but his death happening soon afterwards, prevented those exertions he intended, in showing the Government the necessity of putting our Church upon a more respectable footing in that country, and of sending out ministers to the principle towns who were likely to recover our religion from that state of disrepute into which it has fallen, through the unaccountable neglect of this country in sending out clergymen totally unfit for the situation in which they were placed.

A more particular description of these gentlemen, with a short account of our church affairs in Canada, is located in the enclosed extracts of a memorial lately transmitted to this country with a hope of obtaining relief.

The Society for Propagating the Gospel seems perfectly convinced of the deplorable state of the Church of England in Canada, but the power of redress does not lie with them. They are very willing to contribute their mite towards the support of proper clergymen; but it is the Government alone to make those alterations which are absolutely necessary to the credit and welfare to the Church of England in that country.

From that liberality of mind, and goodness of heart, which mark the character of the worthy noblemen under whose immediate department this subject comes, I feel myself happy in the expectation of that amendment, which the credit of our religion and the happiness of society so loudly call for, and which must not only reflect the highest honour upon his Lordship, but be productive of great political advantage to that part of His Majesty's dominions.

I shall no longer trespass upon your time than to offer my grateful acknowledgements for the civility you have been pleased to honour me with, and to say, that I could have no objection to any preferment in Canada that his Lordship would think proper to place me in.

I have the honour to be, with the greatest respect,
Your most obedient servant,
Charles Mongan

The enclosed extract alluded to, titled the "present state of the Church of England and its Clergy in Canada" was biting. The clergyman of Québec was deemed "a very old Swedish gentleman who cannot speak one word of plain English," at Montréal the "clergyman is also a foreigner, and speaks English so very unintelligibly that our church is totally neglected," and at Trois-Rivières the situation of the church was described as "shameful" as the clergyman there would "disgrace the meanest profession" as he spoke "English worse (if possible) than the other two, and was expelled (for some flagitious acts) from a community of Friars to which he belonged, prior to his conversion to our religion." Mongan's letter was forwarded to Sir Frederick Haldimand, the recently replaced governor-general of British North America, who wrote in his journal that "whilst there might be some truth in the memorial, it was extremely exaggerated." It is unknown if Mongan served as a clergyman in Canada, as he apparently originally hoped. He was again able to secure another regimental chaplaincy, this time in the newly-raised 4th Battalion, 60th or Royal American Regiment, on 24 September 1787; he soon after retired from that post on 29 September 1790; having returned to his native Ireland, Mongan's life was about to take a different turn with the Church of England there:

1789-1791: served the parishes of Tullagh and Creagh
1789-1804: Prebend of Lackeen, Killaloe
1790-1800: Dean of St Patrick's, Dublin, Diocese of Ardagh
1791-1806: Rector of Loughgilly, Armagh
1800-1806: Dean of Clonmacnoise and Precentor of St Patrick's, Dublin
1804-1806: Vicar of Laracor, Meath

Mongan was intent on becoming a bishop of the Church of England in Ireland, but he had many obstacles to overcome from his background. For example, Mongan's surname was in fact a major sticking point to his becoming bishop. But this was something that could be fixed. According to the 19 May 1792 issue of the London Gazette (p. 334):

The King has been pleased to grant to the Reverend Charles Morgan, Master of Arts, Rector of Loughgilly, in the County of Armagh, and Dean of St Patrick's Cathedral, Ardagh, in the Kingdom of Ireland and his issue, his Royal Licence and Authority to assume and take the Surnam of Warburton only, in pursuance of the desire of his maternal cousin-german, Miss Alicia Warburton, spinster, sister of the late William Warburton, of the City of London Esq, deceased; and also to order that His Majesty's concession and Declaration be entered in His College of Arms.

It appears that the London Gazette had a tendency to misprint Mongan's name as "Morgan." Another example of this appeared previously (announcing his promotion within the church), and a correction was soon after posted in the 1 May 1790 issue of the London Gazette (p. 265):

ERRATUM in Saturday's Gazette. For the Reverend Charles Morgan, A. M. to be Dean of St. Patrick's, in the Diocese of Ardagh, read the Reverend Charles Mongan, A. M.

Warburton's name change was an important first step, and in 1795 he earned his Doctor of Divinity degree from Trinity College, Dublin, Ireland. But apparently even these steps were neither enough nor completely satisfactory. An interesting missive recorded in an 1803 letter in the Hardwicke Papers (British Museum) admitted that Warburton had an unusually difficult obstacle to overcome:

The King has declared he will never make him [Warburton] a Bishop. He was a Roman Catholick originally; his name, Mongan, and his father an Irish Harper. He himself was a [Roman Catholic] missionary, and acquired, by plausible manners, to the amount of £2,000 a year and upwards of Church preferment.

But it was only a few years later that the King changed his mind in Warburton's favor, and in 1806 Warburton was created a bishop.

1806-1820: Bishop of Limerick, Ardfert, and Aghadoe (in commendam)
1820-1826: Bishop of Cloyne

According to his obituary published in the Monthly Magazine or British Register of Literature, Sciences, and the Belles-Lettress (volume 2, London: 1826):


The Bishop of Cloyne.

The Right Rev. Father in God, Charles Mongan Warburton, D.D., Lord Bishop of Cloyne, was born about the year 1755,—we have seen it stated that the original name of this prelate was Mongan—that he was the son of a poor road-way piper in a little village in the north of Ireland—that he was a Roman Catholic, and intended for the priesthood,—that while upon the Continent, whither he had been sent to study in one of those charitable institutions endowed for the education of Roman Catholic priests, before the building of Maynooth College, he was thrown by accident into the society of the Earl of Moira—and that, obtaining that nobleman's favour, he was induced to change his destination from the Roman to the Protestant church. Still under the patronage of Lord Moira, he was, after taking holy orders, appointed chaplain to a regiment in North America, where he married his first wife, a lady particularly recommended by his noble patron. That lady dying soon afterwards, he married his second wife (now his widow), upon which occasion he took the name of Warburton. Secure in the road to wealth and promotion, he became Dean of Armagh, afterwards Bishop of Limerick, and ultimately Bishop of Cloyne. The latter Bishopric the best in the south of Ireland (both as to profit and honor), is said to be worth £7,000 a-year. At Limerick Dr. Warburton was much esteemed for his liberal and courteous manners, and his family held there the first rank in society. His translation to the See of Cloyne produced an addition of £3,000 a-year to his revenue. The accumulation of wealth appears to have been a grand object with the Bishop. At Limerick, from its comparatively gay and expensive society, he was not allowed to indulge that propensity; but from the hour of his arrival at Cloyne, which is a retired situation, he continued rapidly to increase his fortune. He is understood to have left £12,000 amongst his children, three sons and one daughter; one of whom is a Colonel in the army, another a Major, another in the Church, and the daughter married to Archdeacon Maunsel, at Limerick. About twelve months ago the Bishop experienced, in the death of a favourite daughter, a calamity from the effects of which he never fully recovered. Miss Selina Warburton, who died of a decline, brought on, as it is believed, by a misplaced affection, was a particularly amiable and benevolent young woman. Her father allowed her the interest of £25,000, her promised fortune, almost every shilling of which she expended in relieving the wants of the distressed. Her remains were carried to the grave amidst the lamentations of the numerous objects of her bounty; and the whole parish mourned for her as for a public benefactress. That Dr. Warburton should have been devotedly attached to such a daughter is not surprising. From the day of her death he broke in health and spirits—his frequent practice was to visit the grave where she rested—his last instructions were that he should be laid by her side. About a week before his death he came into the church, and paused for some moments in painful silence over the last home of the departed. He marked out the spot where he was soon to lie—pointing to it with his finger, exclaiming "there! there!" raised his hand to the wall immediately over it, and appeared to trace with mournful bitterness of heart, the epitaph that would probably record his virtues and his honours. He then slowly passed away, with his eyes directed to the earth, as though he had taken a last fare well of humanity, and entered into a solemn contract with the grave. That very day his disorder increased, he went to his bed of death, and in a week afterwards he was borne to his last home! He died in his palace at Cloyne, on the 9th of August.


Bishop Charles Mongan Warburton was buried at Cloyne Cathedral on 12 August 1826.
While Mongan's family name was often spelled "Mangan" or "Mungan," he consistently preferred the spelling of "Mongan."
Our thanks to Elaine Hopper of Australia, a possible great-great-great granddaughter of Dr. John Mongan, M.D., brother of Bishop Charles Mongan Warbuton, for her generous sharing of London Gazette references and Warburton family genealogy.