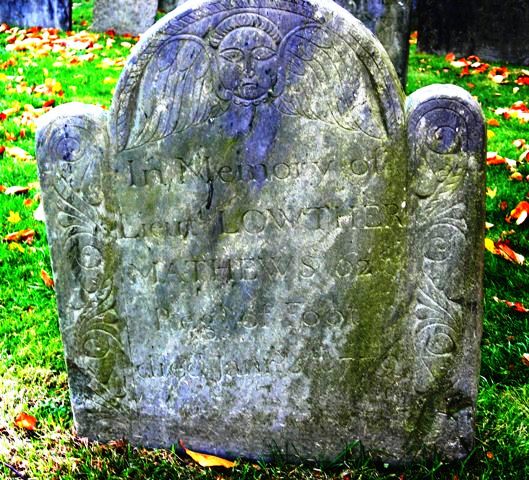 Headstone In Memory of Lieutt Lowther Mathews 62d Regt of Foot died Jany 5th 1779
located at Trinity Church (Episcopal), Queen Anne Square, Newport, Rhode Island

Lowr. Matthews Lt., his signature from a regimental paylist dated Pointe-Lévy, Québec, 23 May 1777
Nationality: English
Born: Wigton, Cumberland, England, 1750
Regimental commission dates:
Ensign, 28 April 1774
Lieutenant, 21 November 1776
Captured: Saratoga, New York, 17 October 1777 (Convention Army)
Died: 5 January 1779
Named after his mother, Lowther Matthews was the youngest of ten children born to Joseph and Mary (née Lowther) Matthews in Northern England. Lowther Matthews purchased his ensigncy in the 62nd Regiment in 1774 and by the end of 1776, Matthews was the second senior ensign of the regiment. As such, he was well placed to purchase up to the rank of lieutenant when an opening in the regiment appeared. When such an opportunity arose, he submitted the following memorial to Sir Guy Carelton (WO28):
To His Excellency Guy Carleton Esq: General, and Commander in Chief, In, and over, The Province of Canada, &ca &ca &ca—

The Memorial of Ensign Lowther Mathews of His Majesty's 62d Regt of Foot.

Most Humbly Sheweth

That your memorialist hath been upwards of Three years, and a half, Ensign in the said Regiment.

That your memorialist is informed that he is at present The Eldest Ensign (excepting Ensign P. Nailer) in the Army under your Excellency's Command—

Your memorialist therefore humbly hopes that your Excellency will Consider him Accordingly—and your memorialist as in Duty bound will every Pray—

Lowther Mathews
Ensign 62d Regt

Quebec
Novr 16th
1776—
In order to add weight to Matthews's claim of worthiness, Lieutenant-Colonel John Anstruther also submitted a memorial to Carleton, but the memorial appears to have been lost. Lacking a corroborating service testimony from his commanding officer cost Matthews his seniority, as was expressed in the following undated communiqué (WO28):
...a memorial was given in, to Sir Guy Carleton by Lt Colo Anstruther Strongly Recommending Ensign Lowther Mathews of the 62d Regiment (being the Eldest Ensign in this Army) to succeed to the first vacancy; since which two junior Ensigns have been promoted, which makes Room to suppose that the memorial hath also been laid aside.
Thankfully, the promotion fiasco appears to have settled, and Lieutenant Lowther Matthews became the senior subaltern of Captain William Hall's company. Unlike his captain, Matthews accompanied the regiment during the Northern Campaign of 1777; he survived the campaign, including the deadly Battle of Freeman's Farm (19 September 1777), unscathed. Matthews surrendered with the rest of Lieutenant-General Burgoyne's Army from Canada on 17 October 1777, and was therefore made part of the prisoner Convention Army. Little is known of Matthew's subsequent captivity. A letter written by Major-General William Phillips, Burgoyne's second-in-command, to Sir Henry Clinton, dated Cambridge, MA, 2 December 1778, relayed that the entirety of the Convention Army was in the process of marching to Virginia. He added that two very sick officers, Braunschweig Captain von Schlagenteuffel and Lieutenant Lowther Matthews, were allowed to go to Rhode Island, and expressed his fear that they would both "die before reaching it." Although Matthews survived the journey, he did not last long and expired soon afterwards. His burial is marked with both a headstone and footstone in the yard of Trinity Church (Episcopal), Queen Anne Square in Newport, Rhode Island, USA. The circumstances which brought upon his death are not specifically known.
A letter written by a Mrs. Jane Matthews dated Wigton Hall, 11 December 1780, brought her brother, a Mr. Charles Yates, up to date regarding the disposition of the Matthews family. Jane was Lowther's sister-in-law, married to his brother John.
Your inquiries after poor Lowther Matthews, I am truly sorry to answer, that death put an end to all his worldly prospects, nearly two years ago. He escaped all the dangers to which his profession subjected him in America, and was, poor fellow, carried off in a decline at Rhode Island, to which place he was permitted to remove for the benefit of his health, but without the desired effect, to the great regret of all his friends.
An entry in American Wills & Administrations in the Prerogative Court of Canterbury, 1610-1857, compiled by Peter Wilson Coldham (Genealogical Publishing Co., Inc.: 1989), records the following: "Lowther Matthews, Lieutenant in the 62d regiment of Foot, who died in Rhode Island, bachelor. Administration to the brother, John Matthews (Sep 1781)."
Of unusual interest is Lieutenant Lowther Matthews's appearance as a central character in an early fictional "historical romance" by Eldred Grayson, esq. (Robert Hare) titled Overing, or the Heir of Wycherly, (New York: 1852). In the novel, Matthews describes himself as an invalid and dies of complications from a cold (much to the dismay of the girl who loved him). His lingering death and burial factor prominently in the novel. Although the author knew of the stone and therefore Matthews's name and the regiment to which he belonged, he clearly knew nothing about the 62nd Regiment nor its other officers, all of which were otherwise invented by the author.
Although official British army records usually returned his surname as "Mathews," the family demonstrated a preference for "Matthews." Lowther himself used both spellings.