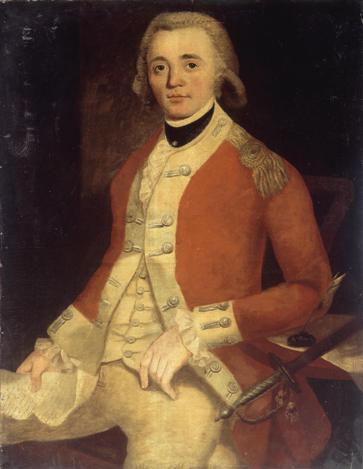 Lieutenant Neptune Blood, 62nd Regiment of Foot, ca.1781
by Strickland Lowry (1737-1785)
private collection
Nept Blood, his signature from a regimental paylist dated Bradford, England, 20 February 1783
Nationality: Irish
Born: Ballykilty, County Clare, Ireland, 1756
Regimental commission dates:
Ensign, 20 May 1777
Lieutenant, 27 July 1781
Location during the Northern Campaign of 1777: Ireland or Great Britain
Exchanged into another regiment: 5 February 1787 (with Lieutenant Gorges Graham, half-pay, late 84th Regiment)
Died: 29 May 1815
Second son of John and Elizabeth Mary Blood of Ballykilty, County Clare, Ireland, Neptune Blood joined the 62nd Regiment as an ensign in the spring of 1777. Too late to join the regiment upon active service, he remained in Ireland or Great Britain during the entirety of the Northern Campaign of 1777 and the subsequent Convention Army period.
Blood was a victim of the regiment having too many ensigns: by the spring of 1777 he was listed as a "Supernumerary" officer of the regiment. A fellow ensign, William Foxlow, found himself in the same predicament. When the regiment was repatriated to England in 1781, Blood was ordered to join it for the first time even though he had been an officer in it since 1777. By 1782 he finally settled in as the lieutenant of Captain William Wybrants's battalion company. Neptune Blood remained a lieutenant in the regiment until he opted to exchange with an officer on half-pay from the old 84th Regiment of Foot. Blood later became a captain in the County Clare Militia, apparently during war with France.
Neptune Blood married Anne Anthony of Seafield, County Waterford, Ireland, on 18 May 1798. They had six children: John (born 1803), Alicia (born 1805), Joseph Mark Anthony (born 1806), Jane (born 1810), Kitty (born 1812), and Fitzgerald (born 1815). Affinity for the "Neptune" name in the Blood family was common; a cousin, also named Neptune Blood (1751-1797), served as an ensign in the 61st Regiment of Foot from 1769-1771, and is sometimes confused with the Neptune Blood of the 62nd Regiment.