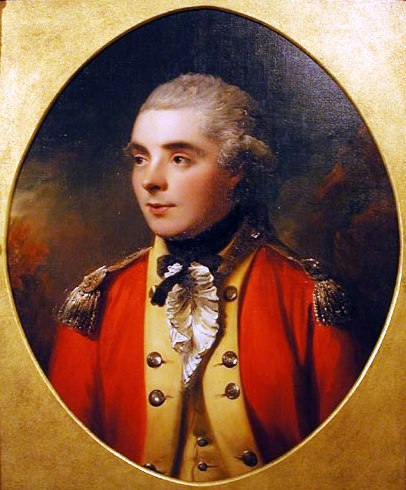 Captain William Sotheron, 62nd Regiment of Foot, ca.1782
attributed to John Hoppner (1758-1810)
photo courtesy of Peter Schweller Fine Art

W Sotheron Capt, his signature from a regimental paylist dated Pointe-Lévy, Québec, 28 January 1777
Nationality: English
Baptized: Darrington, Yorkshire, England, 14 October 1755
Regimental commission dates:
Captain, 29 February 1776
Major, 31 October 1789
Captured: Saratoga, New York, 17 October 1777 (Convention Army)
Retired: 10 August 1790
Died: Darrington, 7 February 1806
William Sotheron began his military career at the age of 15 on 6 June 1770 as a cornet in the Royal Regiment of Horse Guards (the Blues), one of the premier regiments in the entire British Army. Undeterred by the unusually high cost of commissions in this regiment, Sotheron was able to secure a lieutenancy in the Blues on 3 November 1773. What convinced Sotheron to leave this elite, but comparatively sedate, horse regiment for service in one of the most junior infantry regiments of the British army bound for overseas service is unknown. Nevertheless, he became a captain in the 62nd Regiment only a month before the regiment was ordered to Canada in the spring of 1776.
Captain William Sotheron commanded his battalion company during the entirety of the Northern Campaign of 1777, including fighting in the Battle of Freeman's Farm (19 September), in which battle he survived unscathed. He surrendered with the rest of Lieutenant-General John Burgoyne's army at Saratoga on 17 October 1777 and remained in captivity with the regiment over the next few years. Eventually, his petition for an exchange was acknowledged; a letter from Lord George Germain to Sir Henry Clinton, dated Whitehall, 6 December 1780, expressed to the commander-in-chief that Sotheron should be exchanged as soon as it was possible (Clements Library):
Sir John Eden Member for the County of Durham has applied to me in behalf of Captain Sotheron of the 62nd Regiment who was taken Prisoner at Saratoga and is now with the Convention Troops. He is the eldest son of a Gentleman of Fortune and Character and an intimate Friend of Sir John Eden's: and as the Father is in a very precarious state of Health, he is very desirous that his son may be exchanged, in order that he may return home.
By July 1781, Sotheron was home again, recruiting men in England for the repatriated regiment. Upon the retirement of Captain John Shrimpton in September 1782, Sotheron received command of the regiment's elite grenadier company.
Despite Sotheron's early meteoric rise in rank, he remained a captain in the regiment for over ten years. This may have had something to do with divided interests: he became Member of Parliament for the Borough of Pontefract, near his hometown of Darrington, Yorkshire, and served as such from 1784-1796. He eventually purchased the regiment's majority in 1789, but soon after sold that commission and went on half pay as a captain in the late 95th Regiment. Sotheron's last military commissions were with English militia forces during the tumultuous 1790's and early 1800's: he became lieutenant-colonel of the First West York Supplementary Regiment (Third West York Militia) on 25 February 1797 and subsequently lieutenant-colonel of the Pontefract Volunteers on 9 August 1803.
William Sotheron was the eldest son of William Sotheron, originally of Pontefract (1727-1789), and Sarah (née Savile) of Darrington, who were married on 13 February 1751. William Sotheron had five siblings: Lucy (born 1754), Elizabeth (born 1757), Mary-Catherine (born 1758), Savile (born ca. 1760), Henrietta (born 1763), and Frank (born 1765). William's younger brother Frank Sotheron had a successful career in the Royal Navy; Vice Admiral Horatio, Lord Nelson, himself wrote in 1805 that then Captain Sotheron had "every qualification of a complete gentleman and and excellent Officer." Frank Sotheron rose to become an Admiral of the White and a Member of Parliament for Nottinghamshire.
William Sotheron married Sarah Shepley Barker (1771-1842) on 23 December 1793, a woman 16 years his junior who outliving him by almost 40 years. News of Sotheron's death was posted in the February 1806 issue of The Gentleman's Magazine:"At Darlington [sic], aged 51, Wm. Sotheron, esq, lieutenant-colonel of the Pontefract Volunteers. He represented the borough of Pontefract in two parliaments." The April 1806 issue of The Monthly Magazine; or, British Register included a more expansive obituary notice:
At Darrington, William Sotheron, esq., lieutenant-colonel of the Pontefract Volunteers, 50 He represented the borough of Pontefract in two parliaments, as a reward for having successfully vindicated and asserted (together with his colleague Mr. Smith,) the rights of all the free burgesses to the privilege of voting. He was a gentleman of the most honourable principles, of easy and polished manners, beloved by a numerous and valuable acquaintance, regretted most deeply by his nearest relatives, and lamented by all who knew him, as an intrepid friend to his country, of high spirit and independent sentiments, and of the strictest integrity.
Soon after William's death, Sarah commissioned a memorial in his honor at Darrington Church, Yorkshire, the text of which reads as follows:
An Affectionate Widow
Erects this Monument,
As a Testimony of her unceasing Regard,
To the Memory
Of a very kind Husband
WILLIAM SOTHERON Esquire,
Who was one of the Representatives
For the Borough of Pontefract,
In two successive Parliaments,
But spent the greatest Part of his Life
In Military Service
Encountering Difficulties Dangers and Disasters
With General BURGOYNE in America;
And afterwards voluntarily stepped forward
To vindicate the Honour,
And protect the Existence
Of his Country in two French Wars,
As Lieut Coll of an extraordinary Augmentation
Of Militia in the West-Riding of this County,
And as Lieut Coll of the Pontefract Volunteers
He died on the 7th Day of February 1806
In the 51st Year of his Age
Respected and regretted by all Ranks and Orders
in Society.