British Infantry Officer Weaponry, 1768-1786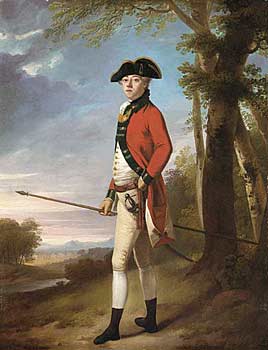 Officer of an Irish Volunteer Regiment with espontoon
and iron hilted sword, ca.1778-1780
by John Trotter (unknown-1792)
Infantry Officer Weaponry: Regulations, 1768-1775
The weaponry available to the British infantry officer corps was officially regulated by government in the Royal Warrant of 1768. According to the language of the Warrant, the "battalion officers," including the colonel, lieutenant-colonel, and major of the regiment (when they were not mounted) were "to have espontoons." Instead of espontoons, "Fuzils" (or fusils, fusees, fuzees) were officially ordered to be carried by grenadier company officers only, and later, by light infantry company officers and all fusilier officers.
The sword, that mark of a gentleman officer, was ordered to be carried as the sidearm of all officers. According to the Warrant: "The [officer] swords of each regiment to be uniform…. The hilts of the swords to be either gilt or silver, according to the colour of the buttons on the uniform." Officially, this necessitated grenadier, light infantry, and fusilier officers to carry both bayonets and swords. Despite the myth of officers choice of swords being an independent one, evidence demonstrates that the 1768 regulation for an intraregimental uniform pattern officer sword was followed. In his 1776 "A List of my Cloaths & Necessarys in General," Ensign William Johnson (29th Regiment) inventoried a "silver regimental sword" in his position. A 1777 memorandum in the orderly book of the 47th Regiment advertised that an "Officer's Regimtl: Sword will be sold tomorrow…." Artist John Singleton Copley's 1783 masterpiece The Death of Major Peirson, 6 January 1781 depicts the officer corps of the 95th Regiment with uniform swords. While romanticized, Copley's painting was executed after excessive note taking and studied uniform observation of what a true 1768 warrant-regulated regiment should look like, with certain early 1780s modifications. The uniform swords depicted were not simply invented by Copley's imagination.
This being said, no doubt there was a certain level of nonuniformity of swords within a regiment due to the promotion of volunteers or battlefield/baggage disasters; consistent, complete officer sword uniformity within a regiment would have been impossible. Also, it is clear that officer sword hilts were not all gilt or silver only. In fact, it appears to have been standard practice that any officer corps of a silver metal regiment (as well as gold metal ones, such as the 1st or Royal Regiment) preferred swords with iron or steel hilts rather than silver or gilt for campaigning, as the former were often stronger and better suited for fighting.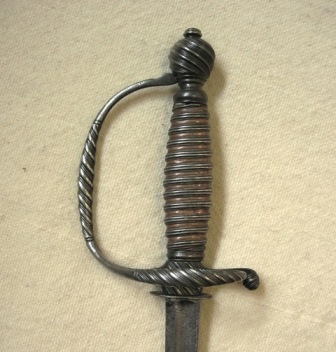 Fine gadrooned iron mounted spadroon with single
ring counterguard. Wooden grip wrapped in copper
bound with steel tri-wire. ca.1760-1770.
Private collection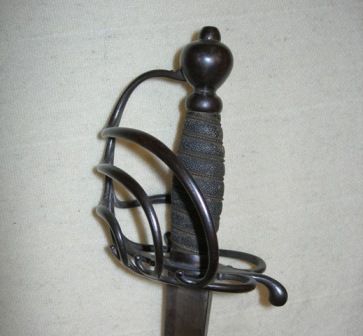 Plain iron mounted saber with four S scroll branches and
open heart counterguard. Wooden grip wrapped
in sharkskin and copper tri-wire. ca.1765-1775.
Private Collection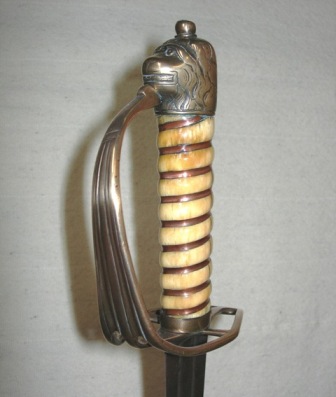 Gilt bronze lion head hanger with slotted counterguard
and copper ribbon wrapped bone grip, ca.1770-1780.
This type of sword was especially popular with
officers in gold metal regiments.
Private collection

British Battalion Infantry Officer Weapons on Campaign:
Fusils, Bayonets, and Swords, 1775-1783
Commonly, actual military service demonstrates that certain types of arms, accoutrements, and clothing are deemed too ineffective, inefficient, or encumbering to actually be used and therefore need modification; espontoons were one of the first to be so determined. According to a general order by the British commander-in-chief in America, Lieutenant-General Thomas Gage, dated Boston, 22 August 1775:
It having been observed that the Officers of some Corps mount guard without espontoons or fusils, it is the Commander-in-Chief's orders, that no Officer marches off the parade to go on any duty, unless with a fusil or espontoon; and that no Regiment change their espontoons for fusils, without leave for so doing.
The importance of this order is not that officers were mounting guard with swords alone (guard mounting duty in this case was little more than a non-combat formal affair), but that even by August 1775 the British commander was both adamant that the battalion company officers of his army carry espontoons, and that they were not to exchange them for fusils (there was no fear of an exchange in the opposite direction). But timing is everything: Gage was soon after recalled to Britain and replaced in America by William Howe—a general officer who was both an architect of tactical innovation and efficient campaign uniforms for both officers and men; he was a man who was more than sympathetic to the idea that officers and men should be rather indistinguishable to the enemy. Indeed, in 1776 espontoons were wholly laid aside by the British battalion infantry officer corps serving in America, as those weapons were seen as simultaneously too ineffective and too dangerous to carry in American warfare, where the rebels' purposeful targeting of officers and use of rifles was infamous. Carrying swords alone, however, was at that time an unacceptable alternative for the exact same reason; such set the officers too far apart from the appearance of their men, making them stand out to be targeted by rebel marksmen, and a sword alone was one half the weaponry they had ever carried. Enter the fusil.
The fusil offered the perfect answer to the officers' weapon problem: unlike the espontoon, the fusil and bayonet would make officer arms indistinguishable to any rebel on the field of battle. The accompanying cartridge pouch and belt made the officer less conspicuous yet, since he would now have crossed belts like the men (early in the war, the men modified their waistbelts to be worn over the shoulder). The fusil and bayonet also provided a significant increase in offensive and defensive weaponry. With the new firearm, the parallel of a rebel "foxhunt" was not lost upon many in the officer corps.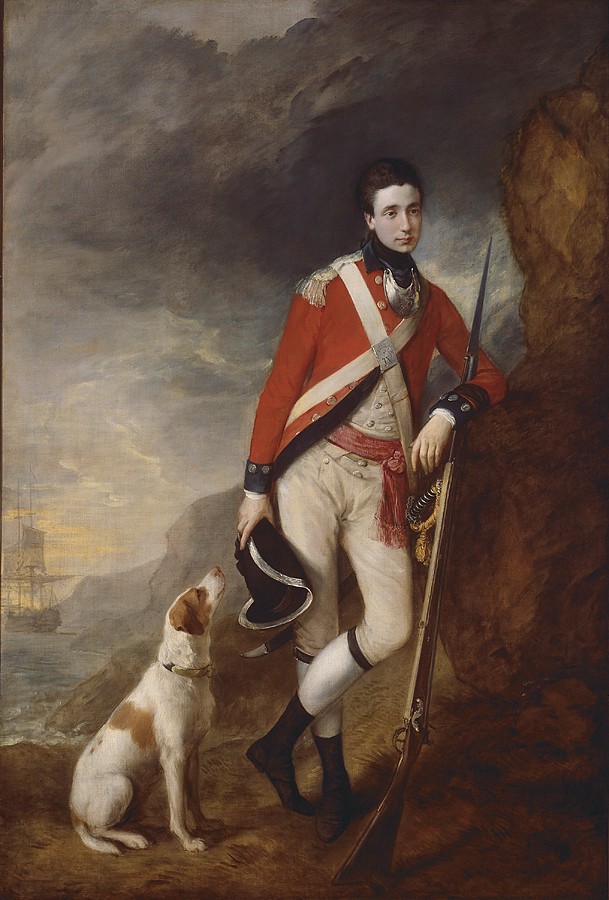 An officer of the 4th Regiment of Foot, ca.1776-80
by Thomas Gainsborough (1727-1788)
© National Gallery of Victoria, Melbourne, Australia
Identified as Ensign Richard St. George Mansergh St. George of the 4th, or King's Own, Regiment of Foot, this
famous portrait by Gainsborough has often been cited by military historians as an officer of light infantry;
however, the sitter's rank and uniform betray that assumption: as with other battalion company officers on
active service in America, this ensign carries a fusil with bayonet and cartridge pouch, as well as a sword.
Locating fusils and bayonets should not have been difficult for any officer, as most appear to have brought hunting "guns" (fowlers) with them to America before the war (hunting in England was the sport of gentlemen). For example, Ensign Jeremy Lister's (10th Regiment) 1771 purchase account listed a "Gun…a Sword…[and a cartridge] Pouch," which he brought to America. Fusils could be outright ordered from Britain or purchased in America or Canada. In some regiments, evidence shows that fusils were sometimes carried by the officer corps of an entire regiment even before the war: according to their 1768 inspection return, the entire officer corps of the 15th Regiment was "armed with fuzees," and the 31st Regiment officer corps was described as being "armed with fuzees" in 1773. Fusils carried by British officers were of two basic types: those purchased on a regimental level for the purposes of weapon uniformity (this was often practiced by British regiments during the French and Indian War), and those procured by the individual officers themselves.
British officer's brass mounted William Jover fusil number 3 and fusil bayonet number 4, ca.1770-1775
This fusil was one of a series, all of which included near-identical furniture engraving.
Private collection
Fusils purchased by the officers individually varied considerably (as expected). Some were constructed as military fusils outright by gunsmiths, fit with bayonet sight and sling swivels, while others began as hunting fowlers and were easily converted for military use (ie the stock cut back and sight added to allow for bayonet mounting, and sling swivels added).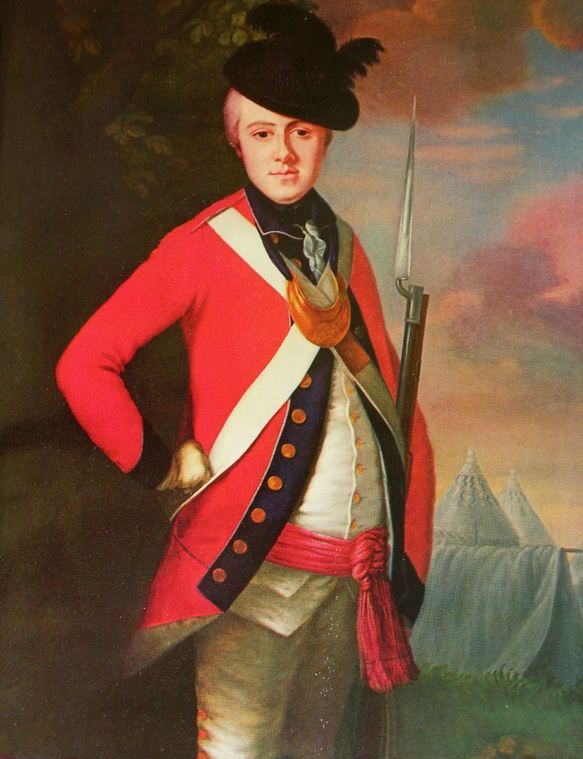 Lieutenant and Captain Thomas Dowdeswell, 1st Regiment of Foot Guards, ca.1778
by Joseph Blackburn (ca.1700-1780)

This very important portrait shows an officer of a battalion company of the Brigade of Guards
wearing modified American service campaign dress, as ordered in 1776 by Guards commander,
Brigadier-General Edward Mathew. As a battalion company officer, Dowdeswell was depicted
with the fusil, bayonet, and cartridge pouch which he used in America.
Note his lack of sword and his fusil's wooden rammer.
British battalion infantry officers carrying fusils, bayonets, and swords was not attended without problems, and British general officers were keen to note them. During the Battle of White Plains, New York (28 October 1776), Lieutenant-General Sir Henry Clinton later wrote (The American Rebellion: Sir Henry Clinton's Narrative of His Campaigns, 1775-1782, with an Appendix of Original Documents. William B Wilcox, ed. Yale University Press: 1954):
The [field] officer who led them [28th and 35th Regiments] immediately formed in column for attack and advanced; the instant I saw the move I declared it decisive. But when the officer had marched forward about twenty paces he halted, fired his fusil, and began to reload (his column remaining during the time under the enemy's fire); upon which I pronounced it a coup manqué, foretelling at the same time that they would break. It happened as I said, and I could not help remarking to Sir William Howe that, if the battle should be lost, that officer was the occasion of it. I had scarcely done speaking when Lord Cornwallis came up with the same observation. The matter being, however, quickly recovered, the hill was carried…

General Burgoyne and I have often represented the absurdity of officers' being armed with fusils, and the still greater impropriety…by which they neglected the opportunity of employing their divisions to advantage.
Clinton added unequivocally that he felt it was "an inconvenience which I had long apprehended might result from officers' carrying fuzees, which was then and had been the general practice on the American service"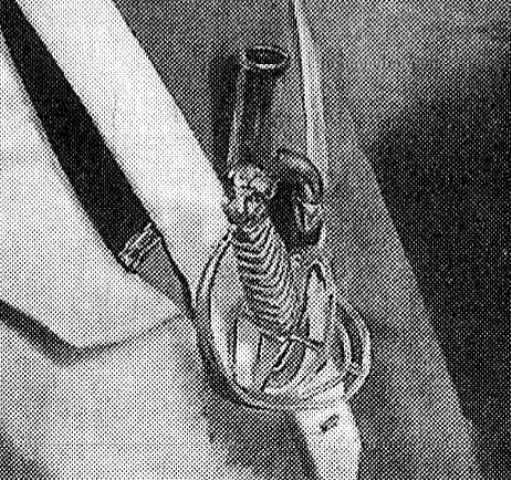 Lieutenant John Hely Hutchinson (detail), ca.1780
by John Singleton Copley (1738-1815)

Hutchinson's portrait demonstrates how an officer would carry both a sword and
fusil bayonet. Note that, with very few exceptions, the bayonet socket was turned into the body.
As the war progressed into the 1780s, evidence implies that some battalion company officers disposed of their fusils and bayonets on campaign. Artwork such as Copley's aforementioned 1783 painting The Death of Major Peirson, 6 January 1781 may demonstrate this, as grenadier company officers are depicted with swords, fusils, and bayonets, but battalion company officers are shown carrying swords alone—such may have been acceptable to the military minded at the time in order for Copley's depiction to have been legitimate. Such was apparently the case with the 3rd, or Buffs, Regiment, in which the officers were inspected in 1784 as being "armed with swords." Alternately, the 60th or Royal American, Regiment was inspected in 1783 as "Officers armed with swords and fuzils" and the 79th Regiment in 1781 as "officers armed with fuzees," but these were not regiments on campaign. By this time, campaigning battalion company infantry officers appear to have started to reach the conclusion that carrying fusils and bayonets was not as necessary as once thought; indeed, the army caught up with this apparent trend in an order dated April 1786: "that the Espontoon shall be laid aside, and that, in Lieu thereof, the Battalion Officers are, for the future, to make use of Swords. The Officers of all Infantry Corps shall be provided with a strong substantial Uniform Sword, the Blade of which is to be straight, and made to cut and thrust; to be One Inch at least broad at the Shoulder; and 32 Inches in Length. The Hilt if not of steel, is to be either Gilt or Silver, according to the Colour of the Buttons on the Uniforms…." In May 1792, all flank company and fusilier officers were also ordered to lay aside their fusils in preference to the sword alone as well.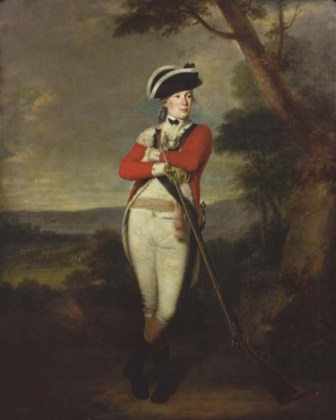 Captain John Alston, 100th Regiment of Foot, ca.1780
by John Trotter (unknown-1792)

Alston, a battalion company officer shown ready for campaigning,
carries a fusil with bayonet and cartridge pouch as well as a sword.
British Battalion Infantry Officer Weaponry in
Lieutenant-General John Burgoyne's Army from Canada, 1777
As Clinton expressed in his narrative, Lieutenant-General John Burgoyne was indeed concerned with the problem attending officers carrying fusils, and he acknowledged this in one of the first general orders passed during the Northern Campaign of 1777, dated Sandy Bluff, 20 June 1777: "The Attention of every Officer in Action is to be employed upon his men. To make use of a fusil, except in very extraordinary cases of immediate personal defence, would betray an ignorance of his importance, and his Duty." Burgoyne, perhaps with the White Plains incident in mind, therefore dealt with the situation before it became a problem: fusils and bayonets were not to be used as firearms (except at the utmost) and yet, officers would be allowed to carry them to make themselves less conspicuous. This same practice was common during the French and Indian War (1754-1763) amongst the British officer corps as well.
Some officers in Burgoyne's 1777 Army from Canada carried their swords too, necessitating the addition of a leather frog for the bayonet, but many chose to leave their swords behind in Canada or with the heavy baggage (which never caught up with the army during the campaign). As with Howe's army, this also applied to field officers who, like their company officers, were as vulnerable as any other. Because the field officers of Burgoyne's army generally fielded dismounted (especially due to the ravine cut wooded terrain of upper New York), fusils, bayonets, and cartridge pouches were just as necessary for them.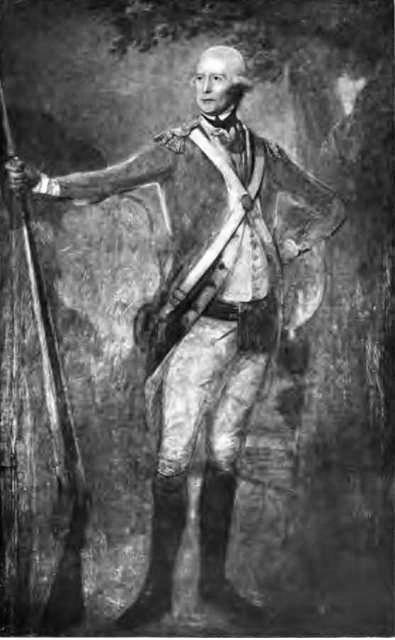 Lieutenant-Colonel John Anstruther, 62nd Regiment of Foot, ca.1780
by David Martin (1737-1797)
Private Collection

Anstruther chose to be portrayed with his fusil and bayonet, sword,
and cartridge pouch, which served as a testament to his service
with Lieutenant-General John Burgoyne in 1777.
Battalion company Ensign William Johnson (29th Regiment) of Burgoyne's army inventoried in his 1777 "Account of my Campaign things," a "double barrel Gun, a Carbine, a Case of Small pistols," and a "bayonet" for weapons. The double barrel gun, brought with him from England in 1776, was certainly a hunting fowler, and his brace of pistols were those things carried by gentlemen officers with the baggage. While on the field, Ensign Johnson carried his carbine and bayonet. His carbine may have been a fusil, as the terms were often used interchangeably (albeit inaccurately); however, it could be that Johnson may have had no choice but to use one of the various types of lightweight soldiers' carbines, such as those issued to the other ranks of the Royal Regiment of Artillery. Of important note is his lack of sword which, as stated earlier, Johnson brought from England in 1776.
Newly-commissioned teenager Ensign Daniel Gwynne (9th Regiment) was still in England in the Spring of 1777 when he received orders to immediately "join the regiment without fail" in Canada. Before leaving on such short notice, Gwynne 's cousin helped him make a series of purchases, charged to Gwynne's father, for items "absolutely necessary for the service he goes upon, and the same with what were provided by an Officer of the same Regimt whom he got acquainted with in Town." Amongst the items purchased were "a Fusee & Bayonet," from the gunmaker Robert Wogdon of London, for £4.4.0. Gwynne arrived in Canada later that year, joined Burgoyne's army, and eventually surrendering at Saratoga.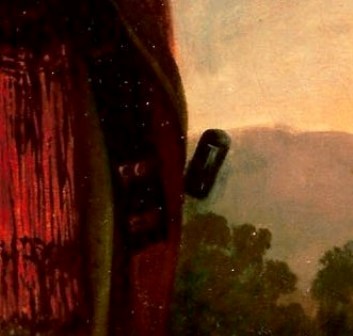 2nd Lieutenant Robert Hamilton Buchanan, 21st or Royal North British Fusiliers (detail), ca.1778
Artist unknown
National Museums of Scotland

Buchanan's portrait demonstrates the practice of many officers in Burgoyne's
army: leaving swords behind in favor of using fusils and bayonets only. Such
necessitated the bayonet socket to be worn facing outward, as the hole for the
sword scabbard hook was already cut into the outside face of the belt frog.

Rebel Lieutenant Colonel James Wilkinson (the 20 year-old deputy adjutant general of the Northern Department of the Continental Army in 1777) recalled a cease fire period conversation with the commander of the 47th Regiment at Saratoga, just before Burgoyne's surrender was agreed to (Memoirs of My Own Times. Printed by Abraham Small, Philadelphia: 1816):
…soon after I perceived Lieutenant-colonel [Nicholas] Sutherland opposite to me, and beckoned him to cross the creek; on approaching me he observed, 'Well, our business will be knocked on the head after all.' I inquired why? He said, 'the [British] officers had got the devil in their heads and could not agree.' I replied gaily, 'I am sorry for it, as you will now not only loose your fusee' (which he had owned thirty-five years, and had desired me to except from the surrendered arms and save for him, as she was a favorite piece), 'but your whole baggage.' He expressed much sorrow, but said he could not help it.
One of the surrender terms of the Articles of Convention Between Lieutenant-General Burgoyne and Major General Gates; October 16, 1777 stipulated that "During the stay of the [British and German] troops in Massachusetts Bay, the officers are to be admitted on parole, and are to be allowed to wear their side arms." But what happened to the firearms owned by the individual officers? According to a letter written by Burgoyne to rebel Major General William Heath dated Cambridge, Massachusetts, 24 January 1778 (William Heath Papers):
The [British] Officers Fusees have been ordered in, they will be safely kept at my Quarters and I will be responsible for their not being returned to the officers while they remain here. These Fusees are no part of the publick arms, they are private property, if you make a point of their being given into your custody, I must beg a little time to reflect upon it.
Still, as the officers of the Convention Army were able to retain their "side arms," the rebel government originally thought it a good idea to have their soldiers identify prisoner British officers "by their swords." In his Travels Through the Interior Parts of America (London: 1789), battalion company Ensign Thomas Anbury (24th Regiment) expressed the conundrum which many British officers found themselves stuck in due to this decision:
…our situation is not only very unpleasant but dangerous, both to officers and soldiers; the latter of whom are in continual broils with the American guards, which are composed of militia, who not being under very great discipline, not only their orders, which perhaps they do not comprehend, or else use their authority as they think proper; they [rebels] have received orders not to let any officer pass without his side arms [swords], and as many of them left their baggage in Canada, others lost them with their [heavy] baggage, during the campaign, this ignorant people will not let any one pass without a sword, drawling out, 'I swear now you shan't pass, because you have not got a sword;' at the same time, stupid fools. They might perceive by our cloaths and bayonets that we were officers.