Geo. Marlay, Capt. 62d. Regt., his signature from a regimental paylist dated Cork, Ireland, 2 January 1775
Nationality: Irish
Born: ca.1748
Regimental commission dates:
Captain, 16 August 1770
Adjutant, 28 February 1785
Captured: Saratoga, New York, 17 October 1777 (Convention Army)
Retired: from Captaincy 20 August 1781
Exchanged into another regiment: 14 May 1785 (with Adjutant Robert Abraham, half-pay, late 91st Regiment)
Died: 14 April 1829
In a regiment with a Welch colonel, a lieutenant-colonel of ancient Scottish lineage, and a major with an equally-ancient English pedigree, it would only be fair that the regiment's senior captain was Irish. In fact, not only was George Marlay Irish, his family was well placed in the seats of power in the government and church in Ireland. According to historian Daniel Owen Madden, in his Speeches of the Right Hon. Henry Grattan (Dublin: 1861), "Indeed, few families in Ireland could boast of a greater union of talent, learning, and virtue, than were to be found in the Marlays."
Like fellow captain William Sotheron, George Marlay entered the 62nd Regiment from a cavalry background. Marlay became a cornet in the 9th Regiment of Dragoons on 1 April 1762 and in just over five years became a lieutenant in that regiment on 27 May 1767. Marlay soon after chose to take a promotional opportunity in the infantry, becoming a captain in the 62nd Regiment of Foot on 16 August 1770. By the time of the Northern Campaign of 1777, Marlay was the regiment's senior captain. Marlay commanded his company during the entirety of the Northern Campaign of 1777, which included fighting in the deadly Battle of Freeman's Farm (19 September 1777), in which battle he survived unscathed. Marlay surrendered with the rest of the army at Saratoga. With the parole and absence of the regiment's field officers, Marlay came to the command of the remnants of the 62nd Regiment in captivity. A letter written by Lord George Germain to General Sir Henry Clinton dated Whitehall, 17 February 1779, requested that Clinton arrange an exchange for Captain George Marlay as soon as possible, so that he would be able to return to England "for the recovery of his health."
George Marlay was made a major (brevet) in the army 17 November 1780, but never became major of the regiment.
With the return of the 62nd Regiment to England in the summer of 1781, Marlay immediately went on recruiting duty in his native Ireland. It is doubtful that he ever returned to command his company though, as he soon after applied to sell out of the service. The regimental agents at the time, Bisshopp and Brummell, wrote to Lord Amherst, commander-in-chief of the forces, about this important matter (WO34) on 21 August 1781:

We have the honour to Lay before your Lordship for His Majestys Approbation the Memorial of Major Geo: Marley of the 62d Regiment of Foot praying Leave to dispose of his Commission in that Corps. At the same time we are directed by Major General Mathew humbly to recommend to your Lordship Lieut: William Wybrants of the said Regiment to be Captain in his Room, the purchase Money having been deposited for the same. We have therefore to request your Lordship will be pleased to move His Majesty to grant a Commission for Mr Wybrants accordingly.

George Marlay's memorial, included with the letter, was as follows (WO34):

To The Kings most Excellent Majesty

The memorial of Major George Marlay Captain in the 62d Regiment of Foot.

Most humbly sheweth

That your Memorialist having served in the army upwards of Eighteen years, and purchased all his Commissions, but his private affairs having rendered it necessary for him to quite the Service.

Your Memorialist therefore humbly prays your Majesty to grant him Leave to dispose of his Commissions to such persons as your majesty shall be pleased to approve

Geo. Marlay
Majr & Capt: 62d Rt

Approved
Edw. Mathew. Colonel 62d Regt

9th Dr. Cornet—1st Apr. 1762—
Lt—27th May 67—P.
62d F. Capt—16th Aug. 70—P.
Major Brevet—17th Nov. 80—

Marlay's request was approved and his official date of retirement from the army was entered in as 20 August 1781, the day he signed his service memorial. It appears that he again joined the regiment, as a man of the same name became regimental adjutant on 28 February 1785. He only stayed on for a couple months and retired to half-pay on 13 May 1785. This lightning fast action may have been a successful attempt to gain an extra income through half-pay.
George Marlay came from a very prominent and influential Irish family. The eldest child of George Marlay, D.D., Bishop of Dromore (died Dublin, Ireland, 1763) and Elizabeth Marlay (née Dunlevy), his only sibling, a younger sister named Elizabeth, married the Right Honorable David Latouche (or La Touché, 1729-1817). Latouche was one of the Privy Council for Ireland, a member of the Irish Parliament, and was first governor of the Bank of Ireland after its establishment. David and Elizabeth's home, purchased and refurbished in 1764, was renamed "Marlay House" by David in honor of his wife. This exquisite country house and garden, located in famed Marlay Park (also named after the family) is now a public museum:

George and Elizabeth's father, George Marlay, D.D., was the younger brother of Thomas Marlay (ca.1691-1756), who was successively the attorney-general of Ireland (1727), Chief Baron of the Exchequer (1730), and, in 1746, chief justice of the King's Bench of Ireland. Thomas Marlay's four children (and therefore George Marlay's cousins) were Thomas Marlay (1719-1784), a "hero of Minden" (he was major of the 23rd or Royal Welsh Fusiliers), Richard Marlay (1726-1802), Bishop of Clonefert and Kilmacduagh (1787), and later, Bishop of Waterford (1795), Alice Marlay (1722-1802), and Mary Marlay (1724-1768).
Soon after his retirement from the 62nd Regiment, George Marlay married Lady Catherine Butler (1766-1823), daughter of Brinsley Butler, 2nd Earl of Lanesboro, at St. Anne's Church in Dublin, Ireland, in June 1782; they had three children: Elizabeth Marlay (ca.1783-1848), Catherine Marlay (1785-ca.1835), and George Marlay (1791-1830), who ended up serving at Waterloo, became lieutenant-colonel of the 14th Regiment, and was awarded a C.B. (Companion of the Bath). It is unclear when, but George Marlay had at least two illegitimate children with the same unknown woman: George Marlay, who became major (brevet) in the 1st or Royal Regiment, and David Marlay who, after lengthy service, became a lieutenant-colonel in the Royal Marines. Extant letters reveal that both men continually petitioned their father for financial assistance for themselves and their children. After George Marlay's death in 1829, they continued to seek assistance from their father's only legitimate son, George.
At some point, George Marlay and family moved from their native Ireland and settled at York Lodge in Twickenham, England, a country town then located close to but outside of the City of London. According to Memorials of Twickenham: Parochial and Topographical by Rev R.S. Cobbett, MA (London: 1872):

York Lodge—The small house near the gates of York House, now occupied by Mr. Herron, upon which the modern title of "Formosa Lodge" has, unfortunately, been bestowed in place of its old name of "York Lodge," has the appearance of having been a portion of the outbuildings originally connected with Arragon House. It was in the early part of the present century the residence of Major George Marlay and his wife Lady Catherine, second daughter of the second Earl of Lanesborough. The Major was in disposition somewhat misanthropical; but his wife, differently constituted, assembled at her house many of the most eminent men of the day; amongst whom are remembered George Ponsonby, Lord Chancellor of Ireland (the husband of Lady Marlay's eldest sister), and the great statesman and orator, Henry Grattan. In the meadows, [near the house], Grattan composed his famous speech on Catholic Emancipation. A lady tells me that, though then only a little girl, the charming manners and unaffected good nature of this Irish coterie, remain impressed on her memory indelibly; she recollects the orator's hasty steps and impassioned gestures, and how, on one occasion, although he seemed to be absorbed in the consideration of his subject, he paused, and with true Irish kindliness, gave her a rosebud from his button-hole.

Major and Lady C. Marlay had two daughters and a son; the last, Colonel Marlay, was father to the late Lady John Manners; the younger of the daughters became the first wife of the Rev. Calvert Fitzgerald Moore; and the elder, who outlived the rest of the family, resided for some years in France, and having made herself a "chanoinesse" was styled Madame Marlay.

Despite the expected affinity for Irish nationality, one may wonder why a famously prominent statesman—Henry Grattan (1746-1820)—would visit or reside at the Marlay residence during his appearances at Parliament in London. Mary Marlay, the aforementioned daughter of Thomas Marlay and therefore George Marlay's cousin, married James Grattan (1710-1766), recorder and member of the Irish Parliament for Dublin from 1761-1766. Their only son was none other than Henry Grattan; Henry Grattan was in fact George Marlay's first cousin (once removed).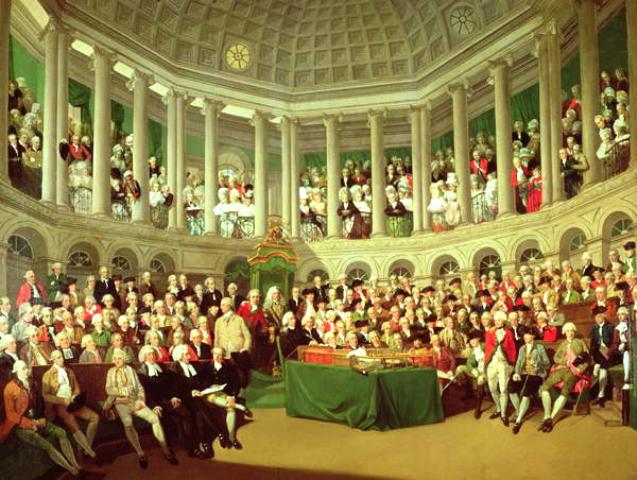 The Irish House of Commons, 1780
by Francis Wheatley (1747-1801)
© Leeds City Art Galleries, Gascoigne Collection

Depicted in Wheatley's painting is Henry Grattan (standing) giving his famous speech before
the crowded Irish House of Commons regarding the repeal of Poyning's law, "that the people of
Ireland are of right an independent nation and ought only to be bound by laws made by the
King, Lords and Commons of Ireland." Behind him is a seated David Latouche.


George Marlay was buried 22 April 1829 at Twickenham Parish, Twickenham, England (as was his wife before him).
The Marlay Letters 1778-1820 by R. Warwick Bond, ed. (Constable and Company, London: 1937) contains a collection of correspondence primarily centered around the Marlay family and those who married into it, and is a primary source for Marlay and related family genealogy.
Despite his own repeated and well-established spelling, as well as that of the Marlay family, Marlay's surname is often found spelled as "Marley."