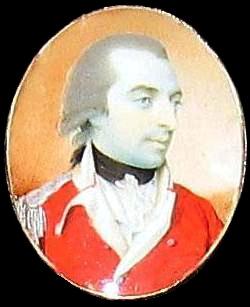 Captain-Lieutenant William Cumberland Wilkinson, 62nd Regiment of Foot, ca.1785
artist unknown
private collection

Wm Cumbd Wilkinson, Lieutt 62d Regt: Ast Engineer, his signature on his map titled
"The ENCAMPMENT & POSITION of the ARMY under His Excy. Lt. Gl: Burgoyne,
AT Swordss and Freeman's Farms on Hudsons River near Stillwater 1777," ca.1779
Nationality: Irish
Born: Corballis, Meath, Ireland, ca.1756
Regimental commission dates:
Ensign, 31 December 1772
Lieutenant, 1 May 1775
Captain-Lieutenant, 30 October 1782
Adjutant, 13 November 1782 (resigned adjutancy 27 February 1785)
Captured: Saratoga, New York, 17 October 1777 (Convention Army)
Retired: 29 May 1786
Died: 6 January 1802
William Cumberland Wilkinson was one very talented officer. In less than three years he was able to advance to the rank of lieutenant, and soon after found himself in the position of junior subaltern in Captain Erle Hawker's light infantry company. Before the Northern Campaign of 1777 commenced, however, both Hawker and Wilkinson were reassigned to a regular battalion company. For Wilkinson, this change may have been made due to his relative inexperience and lack of training, as he had only served with the regiment's elite light company since 1775. Whatever the reason, Wilkinson's special talent had more to do with the pen rather than the sword. Wilkinson's service with his new battalion company was probably limited following a General Order dated 30 August 1777, in which he was "appointed to act as an Assistant Engineer under the Order of Mr. Twiss the Commanding Engineer." Originally, when Burgoyne's Army from Canada set out on its invasion of Northern New York in June 1777, there were five officers from the British Corps of Engineers present:
Sub Engineer/Lieutenant William Twiss (commanding)
Sub Engineer/Lieutenant Henry Rudyard
Sub Engineer/Lieutenant Desmaretz Durnford
Practitioner Engineer/2nd Lieutenant John James Robertson
Practitioner Engineer/2nd Lieutenant Richard Hockings
Practitioner Engineer/2nd Lieutenant Benjamin Slack
Rudyard and Hockings were left behind to oversee engineering efforts at Fort Ticonderoga, and after the 16 August 1777 Battle of Bennington, in which Durnford was captured, a substantial gap in Burgoyne's engineering corps developed further: apparently, Durnford was the only one who could competently draw maps (or he was the only one who otherwise had time for it). Therefore, a new artist was required who could support the engineers with his talents. Enter Wilkinson. The United States Library of Congress houses the Wilkinson map collection, which consists of various maps signed by or attributed to Wilkinson. Wilkinson's beautiful manuscript maps later became engraved by the famous engraver/printer William Faden (1750-1836) for publication in Burgoyne's timeless apologia, A State of the Expedition from Canada, as Laid before the House of Commons (J Almon, London: 1780), and helped form the core of documentation for his defense. The maps may be viewed here:
William Wilkinson's maps in the Library of Congress
Wilkinson surrendered with the rest of Burgoyne's army at Saratoga on 17 October 1777. Although he had important work to do (preparing maps), all his labors had to be accomplished while in captivity. Wilkinson was one of three officers of the regiment to apply for parole in May 1778, but he had a long time to wait before final approval. Ironically, it was through the interposition of an American officer that Wilkinson's case was brought to the forefront. A letter written by rebel Colonel Thomas Hartley to the rebel Board of War dated Philadelphia, PA, 12 September 1780 stated the following:
Gentlemen,

It must be well known to you, with what Rigour and Contempt, the American officers in Canada, were treated by the British at the beginning of the present war. General Carlton effected to make no Distinction between our Officers and Soldiers, and our Flags were refused and ill treated.

In the Action near Trois Rivires in 1776—General Wm Thompson Coll Wm Irvine (now general) with several others were taken prisoners and, when insulted by almost every other person, they experienced remarkable Politeness Humanity and Generosity from a certain Lieutenant William Wilkinson of the 62d British Regt now a Prisoner among the Convention Troops in Virginia

This Gentleman on account of the Death of some Relations, and for other important Reasons, is very desirous of going to Ireland on Parole and has desired me to make application for him: 'tho an Exchange would probably be more acceptable.

The American officers mentioned before have stated several of these Facts (& some I know myself) and wish that Mr Wilkinson should receive a special indulgence

His good Behaviour and Circumstances of his Family, are (as I learn) known to Mr [John] Walker a Delegate in Congress from Virginia, who will doubtless grant his aid in this Business.

By granting a Parole, or an Exchange, a worthy and generous Man would be served, and several good officers obliged as well as your humble
Servt
Thos Hartley
The rebel Board of War convened and determined the following on 15 September 1780:
The board having considered the inclosed letter from Col Hartly, & being well satisfied of the authenticity of the Facts therein stated beg leave to report. That Lt William Wilkinson of the 62nd British Regt a prisoner of the Convention Troops, be permitted to return to Ireland, his native country, on parole.
As a result, Congress passed the following resolution on 18 September 1780, allowing Wilkinson to go home: "Resolved, That Lieutenant William Wilkinson, of the 62d British regiment, a prisoner of the Convention troops, be permitted to return to Ireland his native country, on parole." As with any paroled officer allowed to return to "enemy" (British) territory, Wilkinson had to sign a testament to good behavior:
I, William Wilkinson Lieutenant in the 62d British Regiment, under the Convention of Saratoga, having been Permitted by a Resolution of Congress to return to Ireland on Parole, Do hereby promise and declare on my Parole of Honor and on the faith of a Gentleman, that I will proceed on my Journey by the Route laid Down to me by Colo Wood to the City of Philadelphia from whence I will not Depart without the Approbation of Congress or the Board of War, and having first Obtained proper Passports for that Purpose; that I will not do or say any thing to the Prejudice of the United States of America, or any of them, nor will I by enquiry or other means, endevour to obtain a Knowledge of the state of the forces, strength or situation of the posts, [fortifications], or encampments, Finances or resources of the United States of any of them, or send any letter or message, or Communicate any intelligence to the prejudice of the United States or any of them, and that I will return to any part of the United States when required so to do by Congress or the or the Commander in Chief of the Forces of the United States.

In witness whereof I have hereunto set my hand and seal this 6th day of November 1780.

[signed] Willm Wilkinson
Lieut 62d Regt
Regimental returns dated July and August 1781 both state that Wilkinson was still "on his way to join from America." He rejoined by 1782 and was returned as the senior subaltern of Captain Abraham Bunbury's light infantry company. Wilkinson later became captain-lieutenant of the regiment, as well as regimental adjutant, but left the service in 1786. His resignation may have had something to do with his 31 December 1785 marriage to Miss Sarah Donaldson. They had at least three children. Sarah died on 24 June 1798, and in 1799 Wilkinson married Miss Elizabeth Netterville. Wilkinson died soon after.
Saratoga National Historical Park's National Historical Trail is called the "Wilkinson Trail," and is named in honor of this young officer, whose maps provided the basis for the 4.2 mile trail network.