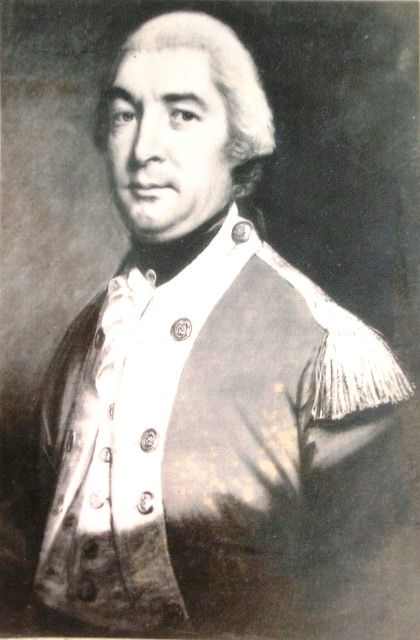 Captain Erle Hawker, 62nd Regiment of Foot, 1780
by Thomas Beach (1738-1806)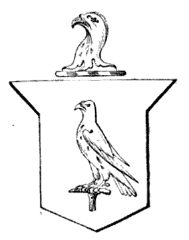 Hawker Coat of Arms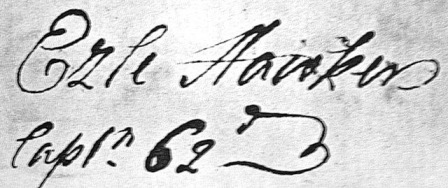 Erle Hawker, Captn. 62d, his signature in a letter to Horatio Gates dated Cambridge, Massachusetts, 12 October 1779
Nationality: English
Born: Longparish House, Whitechurch, Hampshire, England, ca.1740
Regimental commission dates:
Ensign, 28 August 1756
Lieutenant, 2 October 1757
Captain-Lieutenant, 3 May 1770
Captain, 7 March 1772
Major, 18 March 1782
Captured: Saratoga, New York, 17 October 1777 (Convention Army)
Exchanged into another regiment: 29 October 1783 (with Major Steven Howe, half-pay, 81st Regiment)
Died: buried 2 November 1805 at Folke Parish, Dorset, England
For every generation since the mid-16th century, the Hawkers of Longparish House, Whitechurch, Hampshire, served as officers in the English and British Armies, particularly favoring the cavalry branch. Peter and Arethusa (née Ryves) Hawker had five children, four of whom were boys. The eldest, Peter-Ryves Hawker (1737-1790), rose to become 2nd Lieutenant and Lieutenant-Colonel in the 1st Troop of Horse Guards, one of the most prestigious corps in the British Army. George and Edmond were destined for service in the church and Royal Navy, respectively. Erle, the youngest son, was destined to serve in the infantry.
Of all the officers serving in the 62nd Regiment in 1777, none served the regiment longer than Erle Hawker. Commissioned an ensign in the 2nd Battalion, 4th or King's Own Regiment of Foot (renumbered the 62nd Regiment of Foot in 1758) in August 1756 and retiring in October 1783, Hawker served with the same corps for over 27 years.
Almost immediately after Hawker attained the rank of captain in the regiment in 1772, he came to the command of the regiment's light infantry company. However, a review of regimental paylists shows that he was continually "on leave in England" from 1772 through 1775; therefore, while he was captain of the light infantry company, he was neither actively commanding it nor on command receiving light infantry training. Hawker rejoined the regiment in time for its departure for Canada in the spring of 1776. During the Battle of Trois-Rivières (Three Rivers), Québec (8 June 1776), the entire 62nd Regiment was engaged—this was a battlefield rarity during the war, as regimental flank companies usually served in detached battalions separated from their parent regiments. According to her 9 June 1776 journal entry, Lady Harriet Acland wrote about a part of the battle which could have had disastrous results for Hawker and his men (The Acland Journal. Jennifer Thorp, Ed. Hampshire County Council: 1993):

The Grenadiers & Light Infantry of the 20th, the whole of the 62nd Regiment & some Companies of the 9th & 31st formed a line next their grand column. Captain Hawker's Company of Light Infantry were sent to reconnoitre & soon found themselves within 40 yards of their [rebel's] main body. They [Hawker's company] sent for the line to support their retreat, & in moving off received a very heavy fire. The [British] line moved up & gave them a very [heavy] fire and drove them back...

Although Erle Hawker was still captain of the light infantry company by the beginning of 1777, that situation soon changed. Probably due to a combination of his inexperience with light infantry command (and the need for well-trained and / or experienced light infantry officers) and his poor health, he switched companies with a younger, more active officer, Captain Alexander Campbell. During the Northern Campaign of 1777, Hawker was captain of a battalion company and as such he fought in the Battle of Freeman's Farm (19 September 1777), surviving unscathed. Hawker was forced to surrender at Saratoga on 17 October 1777 with the rest of the army and regiment. While the surrendered Convention Army wintered near Cambridge, Massachusetts that year, Hawker stayed in a Cambridge home with Major Henry Harnage, his wife Honour Harnage, and Anne Reynell and her children. Hawker and Honour Harnage were relations, perhaps cousins, and the Harnages and Hawker maintained a strong 'all for one' bond in their collective attempt to gain an exchange or parole. Although Hawker survived the Northern Campaign of 1777 unwounded, his poor health soon became a serious issue. On 30 October 1778, Major Harnage sent the following letter to Surgeon John McNamara Hayes of His Majesty's General Hospital:

Captain Hawker's illness still continuing and an order for the officers of the Convention to march to Virginia about seven hundred miles from hence, I should be desirous of your opinion about his case, and also a Certificate should you Judge such a Journey likely to endanger his Life…

The next day, Hayes responded with the following certificate:

Agreable to your desire, and in Justice to Captain Hawker, for whose Indisposition & Sufferings, no person can feel more, I herewith send a Certificate—and as his Life will be, at this Season of the year, in the most eminent danger, unless immediately removed from this Country, no means to procure him permission in my opinion, ought to be neglected.

Only days before, Harnage wrote a lengthy letter on 27 October to rebel Major General William Heath, asking permission for himself, his wife, Anne Reynell and her two sons, and Captain Hawker, to go home on parole, or to Rhode Island or New York. In his reasoning, he expressed the following about Hawker's poor condition (National Archives and Records Administration, M247):

Further let me address you in the warmist manner in Behalf of an old soldier and an old Friend Captn Hawker of the 62d has servd his country 23 years as an officer in a variety of Climates. His Constitution yields to the Prevalence of Climates and Hardships, and it joins his Inclination in wishing for some Repose, after his Fatigue thro Life. His attendant the Rheumatism looks with Trembling at a Journey of Six Hundred miles commencing in November. Far be it from Genl Heath to wish a veteran suffering when his Country cannot recap a Benefit from it. Thro' me his commanding officer He wishes to convince Genl Heath of his having been a tolerable good Soldier; of his being now a very bad one, worn out and not worth a Farthing: full of Pain and requiring Ease He therefore sollicits the same Indulgence with myself upon the same Parole and Conditions. Captn Hawker is a Relation of Mrs Harnage which will add to her obligation.

With his own medical certificate and Hawker's in hand, Major Harnage also applied to rebel General Horatio Gates for support. Part of a letter from Harnage to Gates dated 9 November 1778 addressed Hawker's condition as well, expressing more particulars of Hawker's service (Horatio Gates Papers):

An old officer and an old Friend was included in Captn Hawker of the sixty second Regiment. Twenty three years Service have made great Havock upon his Constitution. He was Part of the Last War in America under the Generals Amherst and Wolf; five years in the West Indies where He contracted a violent bilious Complaint which is return'd upon Him; added to which is the Rheumatism contracted by long service and Hardships. In short Sir his Constitution is so much impair'd that He is not able to undertake the Journey…

For a more complete account of the difficulties experienced by the Harnages and Hawker in receiving their paroles, including correspondence written by Hawker, see the biography of Major Henry Harnage or Honour Harnage. Eventually exchanged and returned to Britain in 1780, he went to Bath to take in the naturally-healing spring waters found there. He rejoined the regiment and the command of his battalion company in late July or early August 1781, but was again listed as "absent with leave" in March 1782. Hawker became major of the regiment later that month. It was Major Hawker who had the honor of deciding upon the regiment's 1782 county title, Wiltshire. In a letter to Lieutenant-Colonel Williamson, Deputy Adjutant-General of the Army, from the regiment's agents Bisshopp and Brummell, dated 22 May 1782:

In conformity with your Letter of the 13th and Note of the 18th Currt we have consulted Major Hawker of the 62d Regiment of Foot, respecting the Name of a County for the said Regiment to bear, and he has accordingly been pleased to direct us to represent to you that it is his Wish the County of Wilts should be named to you for General Conway's Information, agreeable to your Commands.

Hawker retired to half-pay in another regiment a little over one year later. He never married and had no children. The eldest son of his brother George, Peter-Ryves Hawker, followed in Erle's footsteps and was commissioned ensign in the 62nd Regiment on 4 November 1793.
Despite his own consistent spelling, Erle Hawker's given name was sometimes recorded as "Earle" in period documents.