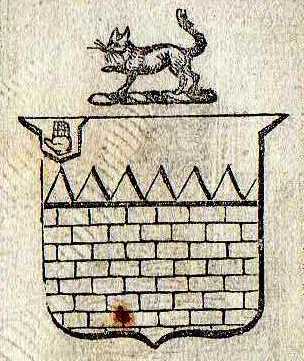 Reynell Coat of Arms, as published in the obituary of Sir Thomas Reynell, 6th Baronet, (1777-1848)
Anne, Samuel, and Thomas Reynell
Nationality: Irish
Born: unknown
Maiden name: Couty
Husband: Lieutenant Thomas Reynell
Disposition of children in 1777:
Richard Littleton Reynell, age 5: probably in Ireland
Sarah Reynell, age unknown: "left at School in a Convent at Quebec!"
Samuel Reynell, age 1: present with his parents
Thomas Reynell, age less than one year: present with his parents
Captured: Saratoga, New York, 17 October 1777
Family ordered released by Congress: 9 November 1778
Released: mid May 1779
Died: unknown
Frederica Riedesel was not the only woman who, with young children, traveled with her officer husband during the Northern Campaign of 1777. Anne Reynell did exactly that, except her story was far more tragic: her husband, Lieutenant Thomas Reynell, was killed in the Battle of Freeman's Farm on 19 September 1777.
Anne Couty, daughter of Samuel Couty, Esq. of Kinsale, Ireland, married Lieutenant Thomas Reynell probably in the early 1770s when the 62nd Regiment was stationed there. By the start of the Northern Campaign of 1777, the Reynell family numbered four children: Richard Littleton (born 30 April 1772), Sarah (date of birth unknown), Samuel (born 31 October 1775), and Thomas (born 9 April 1777). Richard Littleton had for years been enumerated alternately as a private soldier or drummer (always listed on "furlough") in the company his father belonged to. This practice was not unknown in the British army at that time, and as such, little Richard Littleton was not actually serving in either of those capacities; during the Northern Campaign of 1777, it appears that he remained in Ireland, perhaps in school, as he was not listed as present with the regiment. Sadly, comparatively little is known of the second eldest child, Sarah. One of the few references to her is found in a letter from Major Henry Harnage to Captain Henry Harrington (a 62nd Regiment officer in Québec) dated Cambridge, Massachusetts, 8 October 1778 (Haldimand Papers), in which he states"I wish you wou'd make inquiry concerning Mrs Reynell's Child, left at School in a Convent at Quebec! let her be supplied with what is necessary!" Young Samuel and Thomas remained with their parents and were part of the Army from Canada commanded by Lieutenant-General John Burgoyne in 1777. With them was the family servant, Robert McWharter (a soldier of the regiment), and Anne's unnamed lady servant. The family traveled in a circle composed of the other ladies following the army, of which there were six total.
Anne's husband, Lieutenant Thomas Reynell, was killed in the Battle of Freeman's Farm on 19 September 1777. This tragedy was later recorded by Ensign Thomas Anbury (24th Regiment) in his Travels Through the Interior Parts of America (London, 1789):

You will readily allow that it is the highest test of affection in a woman, to share with her husband the toils and hardships of the campaign, especially such an [sic] one as the present. What a trial of fortitude the late action must have been, through a distressing interval of long suspense! The ladies followed the route of the artillery and baggage, and when the action began [on 19 September 1777], the Baroness Riedesel, Lady Harriet Ackland, and the wives of Major Harnage and Lieutenant Reynell, of the 62d regiment, entered a small uninhabited hut, but when the action became general and bloody, the surgeons took possession of it, being the most convenient for the first care of the wounded; in this situation were these ladies four hours together, when the comfort they afforded each other was broke in upon, by Major Harnage being brought in to the surgeons deeply wounded! What a blow must the next intelligence be, that informed them Lieutenant Reynell was killed! Madame de Riedesel and Lady Harriet could afford but little consolation to their companions, through an anxiousness they knew not how to smother, lest it might be soon, very soon, their own situations.

The Baroness, Frederica Riedesel, also recorded the sorrowful scene (Baroness von Riedesel and the American Revolution, journal and correspondence of a tour of duty 1776-1783. Marvin Brown, trans. University of North Carolina Press: 1965):

On September 19 there was a battle, which, although it resulted in our favor, forced us to halt at a place called Freeman's Farm…. I saw a number of wounded men, and, what was even worse, three of them were brought to the house where I was. One of them was Major Harnage, the husband of one of the ladies of our party, the second a lieutenant [Thomas Reynell], whose wife was also an acquaintance of ours, and the third was a young English officer named Young.

According to Lieutenant-General Burgoyne's expenditure accounts, 50 guineas were paid to Anne Reynell on 24 September, five days after her husband's death; this was no doubt of little solace to the grieving widow. During the siege of Saratoga in mid-October 1777, in which the German Baroness and her daughters took refuge in the cellar of a home now known as the Marshall House, the wounded major, his wife Honour Harnage, Anne Reynell, and her two boys "made a room for themselves in one corner [of the cellar] by partitioning it off with curtains." The Baroness later remembered the "horrible smell in the cellar, [and] the weeping of the children," adding that the "women and children, afraid to go outside, had polluted the entire cellar." The Baroness made sure to have the cellar emptied by its inhabitants, so that it could be "swept thoroughly and fumigated with vinegar" because otherwise they "would all become sick." The siege ended soon after, and the victorious American rebels captured Burgoyne's entire army, along with Anne and her little family, on 17 October 1777.

During the period of her and her family's captivity, Anne remained in Cambridge with Major Henry Harnage, Honour Harnage, and Captain Erle Hawker. Not knowing what to do in her situation, she was initially included in an overall attempt on the part of the Harnages and Hawker for a collective parole or exchange. As part of the plea, Major Harnage wrote to rebel General Horatio Gates on 9 November 1778 expressing that the "Widow of Lieut Reynell, who was killd, with her two Children were included in the Request. I must observe that this unfortunate Lady hath two more Children in Ireland—." Congress was uncommonly quick to decide upon the proposal. In reaction to an earlier application made by Harnage, the Monday, 9 November 1778 minutes of the Continental Congress record the following:

The committee to whom was referred the letter, from Major General Heath, of October 29th, and the papers therein enclosed, brought in their report; Whereupon,

Resolved, That the resolve of Congress of October 21st, relative to partial parole exchanges, be transmitted to Major General Heath for his government: that at the same time he be informed, that Congress have no objection to his giving passes for Mrs. Reynolds [Reynell], her children and female servants, to go to Europe, Rhode Island or New York; or to his allowing Major Harnage and Captain Hawker to continue on parole in the State of Massachusetts bay, with their families, upon their engaging to supply themselves.

Although free, Anne and her family remained with the Harnages and Hawker for some time afterward; it was only by the middle of May 1779 that the broken family finally set off for home. Rebel Major General William Heath had a passport prepared for her (William Heath Papers):

By the Hon William Heath Esquire Major General in the army of the United States of america

Permission is hereby given to Mrs Ann Reynell and her Two Children [blank] and [blank] and her nurse [blank] under the Convention of Saratoga to proceed to Newport on Rhode Island by the way of Providence after having obtained the approbation of the Hon Major General Gates for that purpose

Given at Head Quarters in Boston the 18th Day May 1779
By the Genls Command

Heath made sure to keep Gates informed of the situation, as well as a snag over the disposition of her soldier manservant, in a letter dated 19 May 1779 (William Heath Papers):

Mrs Reynall has requested leave to go to Newport with her Children agreable to a resolution of Congress passed some time the last Novr which I did myself the honor to give to you soon after your arrival at Boston, I have accordingly given her the necessary passports to proceed to Providence, she has also Solicited leave for her man servant Robert Mc Wharter who is a soldier to go with her this I do not think to be in my Power to grant but have consented to his attending her Baggage to Providence, and have taken a Parole from Major Harnage for his immediate return to Cambridge unless you should think proper to let him go into Newport which your wisdom will determine.

The overly-prolific Henry Harnage also wrote to Gates about Robert McWharter in a letter to Gates dated Cambridge, 18 May 1779 (Horatio Gates Papers):

I have signed a Parole to General Heath that Mrs Reynell's Servant Robert Mc Wharter will immediately return to Cambridge unless he gets your permission to proceed to New Port! May I therefore beg a line from you respecting him—He was one of the Invalids that was to have gone in the Vessels with Lieut [Archibald] Fife [9th Regiment] and was only kept behind to Convenience Mrs Reynell!

In his memoirs, rebel Elkanah Watson recorded what must have been a memorable meeting with Anne (Men and Times of the Revolution; or, Memoirs of Elkanah Watson, including his Journals and Travels in Europe and America, from the Year 1777 to 1842.... Winslow Watson, ed. D Appleton & Co., New York: 1861):

On our return to Greenwich [Rhode Island], we spent part of the day with other victims of this destructive civil war, the beautiful young widow and two children of Lieutenant Reynell. She was an Irish Lady, in the bloom of youth, prostrated with grief and melancholy. Her husband, an officer in Burgoyne's army, was killed in the battle at Bemis Heights [sic]; while she, in company with Lady Harriet Ackland and other ladies, was protected in a cellar. The event has been pathetically described by the classic pen of Burgoyne.

On 17 November 1780, Parliament awarded Anne £198.14.6 "being his Majesty's bounty for herself and four children, in consideration of the loss of her husband." It does not appear that Anne remarried, and little is currently known of her life afterwards. Her daughter Sarah married Joseph Bullen (1856-1822) on 16 May 1799; she was his second wife of three, and as Joseph married his third wife in 1805, it is likely that Sarah did not live long after her marriage.
Richard Littleton rejoined the 62nd Regiment as an ensign with a commission dated 23 May 1783. Given his young age (11-years-old), this late-war measure may have been done to afford him an income. Posted as an ensign in one of the regiment's additional companies, Reynell, along with the other additional company officers, was soon placed upon half-pay due to post-war downsizing. Richard Littleton inherited the family baronetcy and eventually settled in Baltimore, Maryland, where surprisingly, he was listed as a gunsmith residing at 35 Water Street in the 1816 edition of the Baltimore Directory and Register. He died in Baltimore in 1829 without male issue. Upon Richard's death, his youngest brother Thomas inherited. According to his obituary in the 19 February 1848 edition of The Illustrated London News (No. 303 Vol. XII):

Lieut-Gen. Sir Thomas Reynell

Lieut.-General Sir Thomas Reynell, Bart. and K.C.B., was the third son of Thomas Reynell, Esq., who fell at the battle of Saratoga in 1777, and whose direct ancestor, Richard Reynell, Chief Justice of the Court of King's Bench in Ireland, was created a Baronet in 1678. Sir Thomas Reynell entered the British service, as an ensign, in 1793, and rose through all the grades to that of a Lieutenant-General, being so appointed in 1837. He was also made a Knight Commander of the Bath, and of the Hanoverian Guelphic Order; he was Colonel of the 71st Regiment [sic], and he succeeded to the Baronetcy on the decease of his brother [Richard Littleton Reynell] in 1829.

Sir Thomas passed nearly fifty-five years in the army—a period of brilliant distinction to himself, and of valuable service to his country. During the late war he was always actively engaged: he was in the West Indies, in Holland, in Egypt, in India, in the Peninsula, and at Waterloo. In addition to the Commandership of the Bath, he was decorated with the insignia of a Knight of the Austrian Order of Maria Theresa, and the 4th Class of the Order of St. George, through the recommendation of the Duke of Wellington, immediately after the battle of Waterloo, when Sir Thomas was wounded, in command of the 71st Highland Light Infantry.

Sir Thomas Reynell married, the 12th February, 1831, the Lady Elizabeth Pack, daughter of George, first Marquis of Waterford, and widow of Major-General Sir Denis Pack, K.C.B. Sir Thomas died at his seat, near Arundel, on the 10th inst.; and, as he leaves no issue or male relation, the Baronetcy, one distinguished from its creation by lawyers, statesmen, and warriors, becomes extinct.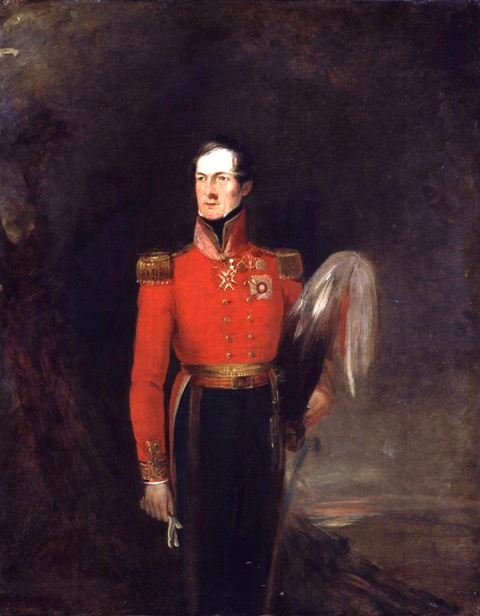 Lieutenant-General Sir Thomas Reynell, 6th Baronet, ca.1834-1840
by William Salter (1804-1875)
© The National Portrait Gallery, London