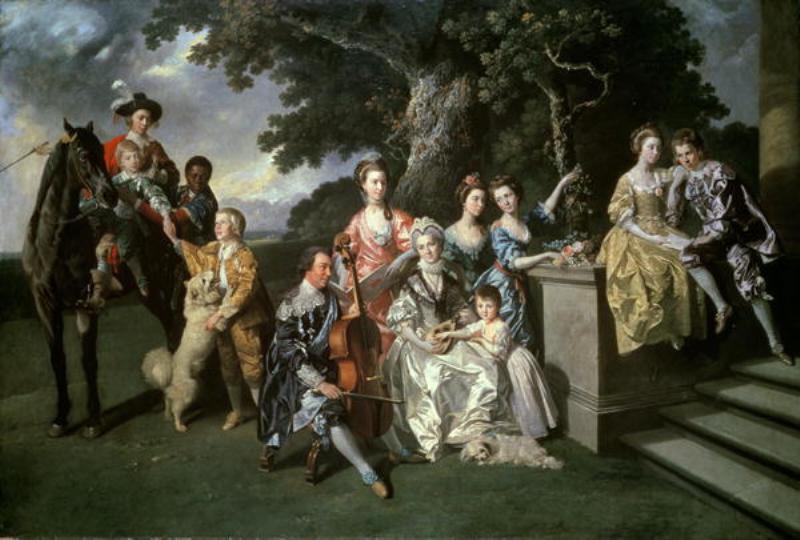 The Family of Sir William Young, 1st Baronet, ca.1766
by Johan Zoffany, R.A., (1733-1810)
© Walker Art Gallery, National Museums Liverpool

Pictured are Sir William (seated with cello), wife Elizabeth (also seated, with theorbo), and youngest daughter
Olivia. Sitting on the wall at right are daughter Mary and son William (future 2nd baronet). Standing behind
their mother are daughters Sarah Elizabeth, Elizabeth, and Portia. John Brooks (a relation of mother Elizabeth)
is mounted on a horse, holding the Young's youngest son John. They, and a black slave or servant of the family,
look down (while a family dog looks up) at Henry Young, future ensign of the 62nd Regiment of Foot.
Henry Young
Nationality: English
Born: unknown
Regimental commission dates:
Ensign, 21 November 1776
Mortally wounded: Battle of Freeman's Farm, 19 September 1777
Died: 29 September 1777
Ensign Henry Young was another young subaltern officer who served in the 62nd Regiment during the Northern Campaign of 1777. Son of one of the great landed gentry families of England's colonial empire, Henry Young's career in the military would no doubt have gone far had his life not come to an end in 1777. Henry young was the second son of Sir William, 1st Baronet of North Dean, Buckinghamshire (1725-8 April 1788) and Lady Elizabeth (née Taylor, 1729-12 July 1801) Young, who were married in 1747. Sir William had been married before, to Lady Sarah (née Fagg, ca.1728-1746), but the marriage was childless. Sir William and Lady Elizabeth had at least eight children: Sarah Elizabeth, William (1749-10 January 1815, future 2nd baronet and M.P.), Portia, Elizabeth, Mary, Henry, John, and Olivia. Sir William was from an Antiguan family, and his life's work would remain closely bound to the West Indies: he was appointed first commissioner for the sale of lands of St Vincent, lieutenant-governor of Dominica (8 March 1768), lieutenant-governor of Tobago (18 October 1770), and was proclaimed first governor-in-chief of Dominica and its dependencies (2 March 1771). Although Sir William and his family spent much of their time in the West Indies, England was not forgotten; in 1767, Sir William purchased the manor of Delaford in Buckinghamshire.
Henry's sister Mary wrote about the family happenings in her journal, stating cryptically in various entries that Henry "came from Holland 1775," and "went as Sailor to America, December 10, 1775." In November 1776, Henry received his ensigncy in the 62nd Regiment and as such accompanied Lieutenant-General John Burgoyne's Army from Canada.
Henry Young fought desperately with his men in the Battle of Freeman's Farm, but like so many of his unfortunate comrades he suffered a horrible fate, as relayed in the memoir of Baroness Riedesel (Baroness von Riedesel and the American Revolution, journal and correspondence of a tour of duty 1776-1783. Marvin Brown, trans. University of North Carolina Press: 1965):
On September 19 there was a battle, which, although it resulted in our favor, forced us to halt at a place called Freeman's Farm…. I saw a number of wounded men, and, what was even worse, three of them were brought to the house where I was. One of them was Major Harnage, the husband of one of the ladies of our party, the second a lieutenant, whose wife was also an acquaintance of ours, and the third was a young English officer named Young. … A few days after our arrival I heard moaning in the other room next to mine and learned that it was the young English officer, Young, who was suffering great pain from his wound.

I was all the more interested in him as a family named Young had been very kind to me while I was in England. I sent word to him that I would be glad to do whatever I could for him and send him some food and refreshment. He expressed a great desire to see his "benefactress," as he called me. I went to him and found him lying on some straw, as he had lost all his baggage. He was a young man of about 18 or 19 years old, actually a nephew of the Mr. Young whom I met in England, and an only son. His parents were his only concern; he uttered no complaint about his pain. He had lost a great deal of blood, and the doctors wanted to amputate his leg, but he would not let them, and now gangrene had set in. I sent him some pillows and blankets, and my maids sent a mattress. I redoubled my efforts to help him and visited him every day, for which he called down a thousand blessings upon me. In the end the amputation was attempted, but it was too late, and he died a few days later. As he lay in the room next to mine, the walls being very thin, I could hear his groaning until the end came.
The Baroness was of course incorrect about Henry being an only child. As expected, Henry's sister Mary wrote about her poor brother's fate in her journal, stating that the family "took our last farewell of poor Henry who went to America in the 62nd, but received a wound at Stillwater, Sept 22, [sic] which brought on his death." Despite the Young family's recent loss, the youngest son, John (baptized at St John's, Antigua, 10 September 1761), soon after expressed a desire to also enter into the military. Sir William, writing to the secretary-at-war on 11 January 1779, understandably admitted that "my youngest son [John], a youth just turned 17, is very desirous of going into the Army, tho I confess it is contrary to my wishes." John Young quickly received his ensigncy in the 2nd Battalion, 60th or Royal American Regiment.
In his An Account of the Black Charibs in the Island of St. Vincent's (London: 1795), Sir William Young, 2nd Baronet, recorded that in March 1795 when Joseph Chatoyer, the famous anti-British Garifuna Carib chief fell:
fighting against the English on Dorsetshire Hill, his hand grasped a silver-mounted broad sword, engraved with the arms of that family, and valued as a memorial of the gallant Lieutenant [sic] Henry Young, of the 62d Regiment, who fell with it in his hand at Saratoga, and which would never have been given by his brother to Chatoyer, but on the faith of his employing it in loyal service to the King, and (as he promised) in particular defense of the family and its interests.
Volunteer St. Leger Bevill received Henry Young's ensigncy on 30 September 1777, the day after his death.
Related to the costumes worn by the family in the Johan Zofany's painting The Family of Sir William Young, 1st Baronet, (seen above) Mary Webster, in her catalogue Johan Zoffany, 1733-1810 (National Portrait Gallery, London: 1976) stated the following:
William Young and his wife were friends of [famed actor David] Garrick, from whom they tried to borrow scenery and costumes for a private production of Julius Caesar in 1758.... The Van Dyck costume in which they are portrayed is therefore particularly appropriate. The skillful use of this fancy dress, then at the height of its popularity, makes this picture one of the most romantic of English rococo conversation pieces. It could almost be called an English domestic version of the French fête champêtre as inspired by Boucher. The motif of the boy on horseback recalls Dutch seventeenth-century painting.