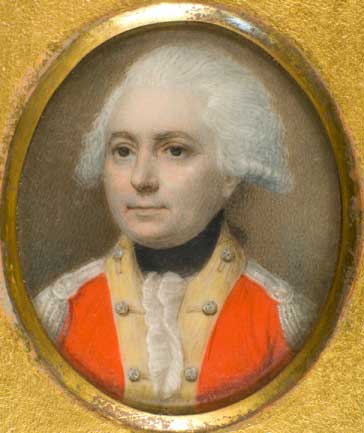 Major Henry Harnage, 62nd Regiment of Foot, ca.1780
artist unknown
Lord St. Helens collection

Henry Harnage, Major 62d British Infantry, his signature in a letter to Horatio Gates dated Cambridge, Massachusetts, 7 January 1779
Nationality: English
Born: 10 October 1739
Regimental commission dates:
Lieutenant, 29 September 1757
Captain, 4 May 1767
Major, 21 December 1775
Wounded: Battle of Freeman's Farm, 19 September 1777
Captured: Saratoga, New York, 17 October 1777 (Convention Army)
Promoted into another regiment: Lieutenant-Colonel, 104th Regiment, 18 March 1782
Died: Belleswardine, Shropshire, England, 11 November 1826
Henry Harnage was born in 1739 to an ancient and high standing Shropshire County English family, as the only son of Henry and Anne (née South) Harnage. While still a teenager and in keeping with family tradition, his parents destined him for military service: his first commission, dated 7 June 1756, was in the 4th or King's Own Regiment of Foot. In 1758, when that regiment's second battalion became the 62nd Regiment of Foot, Harnage, by then a lieutenant in the first battalion, transferred to the newly-formed 62nd, and was therefore one of its founding officers. It was also in 1758, on 11 December, that Henry Harnage married Honour Paynter. Over the next decades, Harnage was able to purchase his way through the ranks of the officer corps of the regiment. As a captain, he became commander of the regiment's elite grenadier company.

View one of Major Harnage's 1770s saddle holster pistols here

Major Harnage and his wife, Honour, were inseparable. When the time came for the Northern Campaign of 1777, Honour took the unusual step of traveling with her husband. Their children, of whom there were only two daughters at the time, remained safely in England. As major, Henry Harnage assisted Lieutenant-Colonel John Anstruther in the command of the regiment throughout the Northern Campaign of 1777. He fought in the Battle of Freeman's Farm (19 September 1777), in which battle he was severely wounded. Baroness Frederika Riedesel later recorded in her memoir what she remembered of the event (Baroness von Riedesel and the American Revolution, journal and correspondence of a tour of duty 1776-1783. Marvin Brown, trans. University of North Carolina Press: 1965):

On September 19 there was a battle, which, although it resulted in our favor, forced us to halt at a place called Freeman's Farm…. I saw a number of wounded men, and, what was even worse, three of them were brought to the house where I was. One of them was Major Harnage, the husband of one of the ladies of our party…Major Harnage and his wife had the room next to mine. He had been shot in the abdomen and suffered much.

The severity of the wound kept Harnage in the hospital after that deadly battle, disallowing his further active participation with the regiment. On 8 October 1777, as General Burgoyne's army began its plodding withdrawal toward Saratoga, Harnage had to make an important choice: remain in the hospital with the other severely wounded officers of the army—and be captured by the rebels—or make an effort to retreat with the rest of the army. According to the Baroness:

[On October 8th the] command had been given for the army to withdraw immediately…and our calashes were ready and waiting. I did not want to leave before the troops did. Major Harnage, miserably ill as he was, crept out of bed so that he would not be left behind in the hospital, over which a flag of truce had been raised. When he saw me standing in the midst of danger, he ordered my children and the maidservants to be brought to the calashes and told me I would have to leave immediately. When I repeated my plea to be allowed to stay, he said 'All right, then your children must go without you, so that I can at east save them from danger.' He knew the weakest spot in my armor and thus persuaded me to get into the calash, and we drove away on the evening of the 8th.

During the famed period of the pre-surrender siege of Saratoga in mid-October 1777, in which the German baroness and her daughters took refuge in the cellar of a home now known as the Marshall House, the wounded major, his wife, and Anne Reynell, and her children "made a room for themselves in one corner [of the cellar] by partitioning it off with curtains." The baroness later remembered the "horrible smell in the cellar, [and] the weeping of the children," adding that the "women and children, afraid to go outside, had polluted the entire cellar." The baroness made sure to have the cellar emptied by its inhabitants, so that it could be "swept thoroughly and fumigated with vinegar" because otherwise they "would all become sick." The siege ended soon after, and the victorious American rebels captured Burgoyne's entire army. The wounded major and his wife Honour were among the prisoners.

The Harnages joined the 62nd Regiment in captivity in Cambridge, Massachusetts. By the fall of 1778, the rebels ordered the prisoner Convention Army to march to Charlottesville, Virginia. The Harnages, along with Captain Erle Hawker and Anne Reynell, feared such a move due to their poor health conditions and the "Situation" of the two ladies. Hoping for an early release, what instead followed was a very lengthy and trying series of correspondence related to the deteriorating situations of the Harnages, Hawker, Anne Reynell, and her children. This began with the following letter from Major Harnage to rebel commander Major General William Heath, dated Cambridge, Massachusetts, 27 October 1778 (M247):

Sir

In our unfortunate state Hope was our chief comfort. The Prospect of returning to our native Land approach'd every Hour. This gave a present satisfaction to counterballance our past misfortunes. Hence arose a Pleasantly [?] upon the mind to soften the cares of Life; and upon this—did we build our future all in our present circumstances, but alas Sir what a change! What a Reverse of Fortune! Instead of which— —really Sir I am at a loss for words to express our present case. The uncertainty of the Place, the distance, the approach of winter for the commencement even of so long a Journey; all combine to strike the Imagination with a gloom which Reflection must ingran upon the mind. I beg leave then, Sir, to appeal to your several Feelings as a Man, a Soldier, a Husband, and a Father. View Me, Sir, under these four characters and these will need little Rhetoric to plead my case in your Breast. Mrs Harnage who will present you this must give me almost unsurmountable uneasiness in my present situation. Her Sex, her constitution must shudder at the difficulties, and forgive the Soldier if He melts into Tears in the Husband. When I lay gasping under what was thought a mortal Wound last Campaign her tender care partly handed me thro' the danger. How is it possible for me even to think of transporting her at this Season to Virginia: besides our little Family at Home calls for us both; and where Fortune hath not been too ample in her Gifts a strict attention is requir'd to the Finances of the Family. My two Daughters in England require a mothers care, and circumspection, for we mortals are like the Earth, the men we are cultivated will produce the more and better Fruits—

All these things combin'd form I hope a sufficient apology, for my soliciting Genl Heath for an Indulgence. If it is in your Power to grant me Leave to return to Europe upon my Parole of Honor I shall esteem it as a Favor and memory will record it: if not let me intreat you for an Indulgence to go into Rhode Island or New York to negotiate an Exchange, at least to provide for Mrs Harnage. If it is a matter which must rest with the Honorable Congress I do sollicit your Interposition with that Body in my Behalf. The situation of things require speedy conclusions. Permit me therefore to ask your Passport to go to New York untill the Pleasure of Congress is known, and if they find it not expedient to grant your Request in Behalf of this Letter I will upon my Parole of Honor return upon your Summons or join the Conventioners in Virginia as you may thing proper to order. I shall add nothing further in my own Behalf—Where his Country suffers not, and the action speaks for itself a Soldier must exult in doing a good and generous action.

Permit me also to mention Mrs Reynell and her two small Children. Her Husband was killd the 19th Sepr 1777

Further let me address you in the warmist manner in Behalf of an old soldier and an old Friend Captn Hawker of the 62d has servd his country 23 years as an officer in a variety of Climates. His Constitution yields to the Prevalence of Climates and Hardships, and it joins his Inclination in wishing for some Repose, after his Fatigue thro Life. His attendant the Rheumatism looks with Trembling at a Journey of Six Hundred miles commencing in November. Far be it from Genl Heath to wish a veteran suffering when his Country cannot recap a Benefit from it. Thro' me his commanding officer He wishes to convince Genl Heath of his having been a tolerable good Soldier; of his being now a very bad one, worn out and not worth a Farthing: full of Pain and requiring Ease He therefore sollicits the same Indulgence with myself upon the same Parole and COnditions. Captn Hawker is a Relation of Mrs Harnage which will add to her obligation.

With his usual swiftness, Heath, a general without the power to grant Harnage's request, forwarded it to the rebel Congress. In his letter dated Head Quarters Boston, 29 October 1778 (M247) addressed to the president of Congress, Henry Laurens:

Sir,

Since writing in the morning I have received the enclosed from Major Harnage. His character as an officer, his good behavior since here, and the circumstances of his family, together with the great length of the Journey to Virginia, seem to render this officer & his Lady truly objects of compassion. If from good behavior here, I was to solicit a favor for any British officer of the Convention, I should find myself inclined to do it in favor of this officer. I beg leave to submit his case to the Hon: Congress, with that of Capt Hawker & Mrs Reynolds [sic] (the later is a widow with two Children) & request an answer as soon as may be agreable. Enclosed are the names of their servants.

Harnage and Hawker were each able to procure certificates from Surgeon John McNamara Hayes of his Majesty's Hospital, in which the exacting particulars of their conditions were described in detail (Horatio Gates Papers):

30. Oct. 1778

Whereas Major Henry Harnage of his Majesty's 62d Regiment of Foot, was in the Action of the 19th of September 1777 wounded by a Musket Ball, which entered his left side; and passing under the abdominal Muscles, in a strait line across the stomach, wounded one of the ribs of the right side, which greatly endangered his life—and from the appearance of many alarming symptoms made his recovery extreamley doubtfull.—The various hardships from a distressing & painful journey; and the impossibility of paying the Necessary attention to a Wound of so intricate a Nature, has laid a seat for a Stricture across the Stomach which it is feared, will ever be distressing, unless a timely assistance for it's recovery is procured; and as the Climate of this Country is so derogatory to the nature of the wound; and a long journey by Land, woul'd most Certainly endanger his Life, I do hereby Certify, that the speedy return of Major Harnage to Europe is absolutely necessary for the recovery of his Health; and to procure the earliest assistance of warm Baths & Climate, to remove those Complaints which his wound has brought on him, and which cannot otherwise be obtained.

In response to being informed by Heath that his letter was being forwarded to Congress, and with the official certificates of both he and Hawker in hand, Harnage wasted no time in seeking additional support by applying to his original captor, rebel Major General Horatio Gates:

Cambridge 9th Novr 1778.

Sir,

Upon the order being issued for the Troops of the Convention to march to Virginia, I made an application to Major Genl Heath, for Leave to go by Way of New York, in order to get myself exchanged—or to go to England upon my Parole of Honor—or to join to the Troops of the Convention in Virginia early in the Spring, if requir'd by the Honorable Congress, or by a Requisition of Major Genl Heath whose permission we claimed. To this application Genl Heath gave a very polite answer: at the same time signifying that it was not in his Power to comply with our Request, as it was a matter that rested entirely with Congress. However! He carried his goodness so far as to transmit my Letter to them, backd with his Interest, expressing himself that He did not doubt their acquiescence to my Petition as the Reasons arg'd in it were so strong, and the necessity almost indispensable.

It was founded, Sir, upon the State of my Health from an inward Stricture originating from the Wound thr'o my Body; poor Mrs Harnage's situation, our Children at home both Daughters requiring a Mother's Care; add to this the Season of the year, the Length of the Journey, and the enormous Expence in the conveyance of a Family: and what seemd to strengthen this Request to Genl Heath was that there could be nothing detrimental to America; of course a Father, a Husband, and a wounded soldier in me pleaded this cause before a General whom I am sure from his Behavior to Mrs Harnage and the Language of his civil Letter to me would have been happy to have granted my Request if it had been in his Power.

The Widow of Lieut Reynell, who was killd, with her two Children were included in the Request. I must observe that this unfortunate Lady hath two more Children in Ireland—.

An old officer and an old Friend was included in Captn Hawker of the sixty second Regiment. Twenty three years Service have made great Havock upon his Constitution. He was Part of the Last War in America under the Generals Amherst and Wolf; five years in the West Indies where He contracted a violent bilious Complaint which is return'd upon Him; added to which is the Rheumatism contracted by long service and Hardships. In short Sir his Constitution is so much impair'd that He is not able to undertake the Journey. All these things inducd Genl Heath to recommend him in the strongest manner to the Honorable Congress.

That we might be enabled to benefit by the Indulgence of that Senate. He was kind as to permit us to remain here until an answer came to the Express which He sent to Congress. In whatever Light Congress may view this Petition We shall ever acknowledge our obligation to Major General Heath.

As We this moment understand that the command of the Troops in this Province devolv'd upon you, I take the earliest opportunity of laying my case before Genl Gates. We therefore repeat all these things to your several Feelings, and do not doubt of their being powerful pleaders in your Breast. We have Certificates for Captn Hawker and myself from Doctor Hayes to justify our application to Genl Heath, our Superiors at Home, and the World in general.

Mrs Harnage will present you this in Behalf of us all: trusting that Genl Gates will continue that Indulgence to us of remaining here until an answer comes from Congress. Also to solicit his assistance in our little Wants: Humanity and the Distresses of the unfortunate are powerful advocates to a well disposed mind. Such we have found you; and make not the least Doubt of finding you so still: therefore we have every thing to Hope and expect from General Gates's Goodness. I am particularly anxious about Captn Hawker as an old Friend and a Relation of Mrs Harnages—

Congress received Heath's letter and Harnage's 27 October appeal for freedom on 7 November. On 9 November, Congress resolved to inform Heath that they "have no objection to his [Heath's] giving passes for Mrs. Reynolds [sic], her children and female servants, to go to Europe, Rhode Island or New York; or to his allowing Major Harnage and Captain Hawker to continue on parole in the State of Massachusetts bay, with their families, upon their engaging to supply themselves." On 13 November, Major Harnage again pleaded to Gates for assistance, and requested that "upon account of Mrs Harnage's and the Widow Reynell's Situation as well as the alarming state of our [Major Harnage's and Captain Hawker's] Health we only Request you Indulgence to go into New York upon our…Parole, to rejoin the Troops of the Convention when ordered!" Gates could only forward the request to Congress and could not confirm the proposal himself, as it was established that Congress alone had such a power to grant what the major wanted. The situation of the Harnages and Hawker was getting desperate. Despite the irregularity of the move in the 18th century, Honour Harnage decided to step up the pressure. In a letter dated Cambridge, 23 March 1779, she wrote to Elizabeth Gates, wife of Horatio Gates (Horatio Gates Papers):

Dear Madam

I take the liberty of sending you the inclosed unsealed, Requesting you will first peruse, and then be at the trouble of presenting it, to the general? It wou'd be, to call in question, your well known generosity, and tender feelings, to desire your Influence, in support of what my Distresses have therein obliged me to set forth!—

The letter alluded to was delivered to Gates:

Dear Sir

It is hop'd you will excuse this intrusion from a female hand! the fears and apprehensions of our sex, often oblige us, though unwillingly, to intrude our cares, (from hopes of relief) on those, whom by the strict rules of Decorum, we have no right to trouble with our sufferings—

But Sir, your compassionate attention towards the unfortunate, universally known, and experienced, (I am not so base to speak the language of flattery) are motives that give strength to my Pen in the following solicitation—

To undertake a journey by land from hence to Virginia is I fear beyond my powers, in my present situation; even had we or were we able to procure the necessary conveyances. Within four months I expect to augment my family, how then can I venture on such a journey? and to remain here will be of worse consequence. as I have not with me nor am I able to procure either Nurses, clothes, assistance, or any one requisite, that the situation will naturally demand, and require! Thus circumstanced can you not General allow the Major, with Capn Hawker, and our family, for without them I will not stir, to remove from hence, by land to Rhode Island, giving every necessary parole, and security. That we will immediately go by Sea to join the Troops under Convention at Charlotte Ville?—Do if you can grant this my request, which, with the flattering attention, and favors, already shewn us, will be acknowledged to my last breath!—But if Fate says it can not be! We will proceed by Land from hence, as to stay here, without convenience and unassisted, is impossible!—

Alarmed by the report of your intending soon to quit Boston, I am the move anxious, and precipitate in my request.

I am, and shall ever by happy in subscribing myself
Dear Sir—your obliged
And obedt
Hbl Servant
Honour Harnage

On 27 March 1779, Major Harnage asked Gates to forward an open letter to George Washington himself, which Washington received on 10 April. Writing to President of Congress John Jay on 12 April, Washington expressed his sentiments on the matter with his usual simultaneous humbleness, tact, firmness, and humanity:

…I received [a letter] two days ago from Major Harnage in behalf of himself and Capt Hawker both of the 62d Regt British. Should not an exchange take place in which these gentlemen may be included, it will be an act of humanity to indulge them under their peculiarity of circumstances, with a liberty of joining the Corps to which they belong, by making use of a water conveyance as far as possible; But as I did not think it proper to comply with the request, without the concurrence of Congress, I must beg the favour of you to lay the Major's letter before them for their determination.

Congress acted quickly: according to the 14 April 1779 Congressional minutes:

A letter, of 12, from General Washington, was read, enclosing a letter to him from Major Harnage, in behalf of himself and Captain Hawker, both of the 62d regiment, British, requesting permission for himself and his family, with Captain Hawker, to go by way of Rhode Island to New York, and from thence by water to Fredericksburgh, or any town nearest to Charlotteville, to join the troops of the convention…Whereupon,

Resolved That General Washington be informed that Congress cannot agree to Major Harnage and Captain Hawker's going to Virginia in the way proposed and requested, but have no objection to their remaining where they are.

It was not until 12 May that Harnage was in receipt of Congress's resolution (via a letter from Gates). In his reply to Gates dated 18 May, the major no doubt tempered his true feelings on the matter regarding Congress's decision: "although we are uncommonly unfortunate in not succeeding in our application to Congress, we justly esteem ourselves equally obliged to you, for your benevolent attempts to serve us."
It was at about this time that Honour Harnage fell ill. The exacting nature of her sickness is unclear, but it was probably related to an unsuccessful childbirth (she alluded to being pregnant in her 23 March 1779 letter to Gates). According to Lieutenant and Captain Archibald Edmonstone of the 1st Regiment of Foot Guards in a letter dated Philadelphia, 4 August 1779, he informed Braunschweig commander Major General Riedesel that "Mrs. Harnage had a baby three weeks before her time and the child died" (Riedesel Papers). Despite their collective unhealthy predicament, it would be some time before the Harnages and Hawker were allowed out of the country; for the time being, they had to rely on daily passes into the City of Boston to receive the necessary help. Despite the allowance of remain in Cambridge, preparations appear to have been made for a move to Virginia, as demonstrated in the following declaration (William Heath Papers):

We Henry Harnage Major of the 62 British Regt of Foot, and Erle Hawker Captain in the Said 62 Regt under the Convention of Saratoga, having Permission for ourselves, and for Mrs Harnage, and the Servants of the Family John Pruit and wife and Thos Mc Loughlin and wife to proceed to Charlotteville in the State of Virginia do hereby Severally pledge our Faith and word of Honor, not to do or say any thing on the rout to Virginia predujicial to the Interest of the United States of america or either of them and promise the same for our servants, that we will strickly observe a propriety of conduct that we will proceed by the way of Springfield, Hartford, Farmington Litchfield, & Fishkill, and strickly follow & observe such other rout and direction as we may receive from the american General officer commanding at Fishkill or other Post on the rout.

Cambridge State of Massachusetts Bay in New England 18th May 1779

The passport was officially confirmed and signed by Heath that same day (William Heath Papers):

By the Honble William Heath Esquire Major General in the army of the United States of america

Permission is hereby to Major Henry Harnage Capt Erle Hawker and Mrs Harnage with their servants John Pruit & wife and Thos McLoughlin and wife under the Convention of Saratoga, to proceed with their Baggage to Charlotteville in the State of Virginia by the route of Springfield, Hartford Farmington, & Litchfield to Fishkill, where they will take further directions from the Hon Major General McDougall or other General officer Commanding at that Post.

Given at Head Quarters in Boston this 18th day of May 1779

By the Genls Command
WHeath

Th Cartwright
AiddeCamp &
Act Secretary

Although he lost his battle with Congress in the first round in getting exchanged or paroled, Major Harnage was ready to try again. No doubt miffed that it took too long after Congress's negative resolution until he was informed of it, Harnage wrote the following to Washington dated 24 May 1779:

Sir,

I take the earliest occasion of Returning you my most sincere thanks for the attention your Excellency has kindly shown to my request of 27th March—Altho' we have been particularly unfortunate in not having succeeded; yet Sir, gratitude will oblige us ever to Remember the considerate Attention you generously show'd to our Solicitations!—

A Thousand Insurmountable obstacles, join'd to Mrs Harnage's ill health, has rendered all my endeavours of moving from hence, to Charlotteville, fruitless, We are therefore necessitated to remain here some time Longer.

Might I trouble your Excellency again, with what purely relates to us Individuals! I wou'd request, that shou'd you hear of our being Exchanged, you wou'd Order us to be Acquainted with it, by the first Opportunity? Certainly it was intended that Capn Hawker, and me, shou'd be included in the Exchange of those Invalids belonging to the Troops of the Convention, which are sent into New-York!

My feelings on account of Mrs Harnage's Distresses are great, and I fear have made me trespass on your Patience

As expected, Washington 's 11 June reply was as sincerely accommodating as could be expected, given that he was not in a position to afford the Harnages or Hawker any aid. He assured the major that he could "depend on the earliest notice of [an] exchange, when it takes place…" and hoped that he could "beg the favor…to present my respects to Mrs Harnage and assure her of my best wishes for the restoration of her health." Further correspondence from the major to Gates dated 14 July expressed that "Mrs Harnage is at present dangerously ill…" and another dated 5 August again confirmed that she was "not in good health." But by the end of August, Honour Harnage appears to have recovered well enough to again write to Washington, pressing the importance of the major's and the captain's paroles or exchanges. In a letter from Cambridge dated 25 August 1779, she wrote (George Washington Papers):

Sir

I have nothing to offer in extenuation of the impropriety and indecorum of this address, but merely my own feelings, and distresses, which urge me, perhaps beyond the delicacy of my sex, to intrude on your Excellency. my earnest prayer, that you will consent to a partial exchange of Major Harnage, and Capn Hawker (the former my Husband, the latter my Relation). The peculiar hardships of our situation will I hope plead in justification of such a step! And your candour, humanity, and tender feelings, most universally known, and acknowledged, by all Parties, give me room to flatter myself that this my petition will be successful—your perusal of the inclosed letter which I have taken the liberty of troubling you with to Sir Henry Clinton, will fully inform you of the dire necessity that has induced me to make this application! I will not intrude further on your time every moment of which must be precious. but beging your indulgence of forwarding my letter by the first opportunity to newyork. I conclude with sincere assurance, that I am, with most perfect respect, and esteem,—Sir.—

your Excellency's
most obedient
and most humble
Servant
Honour Harnage.

In his replying to Harnage dated 13 September 1779, Washington reassured her that he would do all he could, and offered some promising news:

Madam:

I have been honored with your letter of the 25th. of August.

You will believe me, that my wishes and endeavours have been uniformly directed, to remove those obstacles, which stood in the way of a general exchange of prisoners. I have only to regret their having heretofore proved unsuccessful. There is now a meeting of the respective commissaries of prisoners at Elizabeth Town, which I flatter myself will be attended with better fortune. But in case a general exchange cannot be effected my commissary has been particularly instructed to propose Major Harnage and Capn Hawker for a parole exchange.

I shall inclose your letter to his Excellency Sir Henry Clinton by the first flag to his lines, which I suppose will be to-morrow.

I am, madam, with great respect,
Your most obedient & very hum le servant,
GW

After receiving Washington 's reply, Mrs. Harnage and the usually silent Erle Hawker wasted no time to act. In a letter to Gates dated 12 October 1779, Hawker wrote to Gates:

Sir

Upon hearing this morning that Col Beaty Commissary General of Prisoners was at Boston, Major Harnage wrote to Him and sent Him the enclosed Letter which Mrs Harnage receiv'd from General Washington, not doubting but a Parole Exchange had taken Place in our Favor. We were not only much surpris d but also chagrin'd at Col Beatys answer because we have receivd Information from New York that Mr Loring had particular Directions from Sir Henry Clinton to exchange us. The Prospect was flattering when the two generals were so attentive to our Sollicitations, and exprest even an Earnestness to releive us out of our melanchily situation. judge then Sir of our Disapointment. I think Sir you will view General Washington's Letter in the same Light that I do. and I am certain that your good word will not be wanting to explain matters properly with Col Beaty; trusting that if any officers are permitted to go in upon Parole we shall have the same Indulgence, found in our claim to the Indulgence upon Gen al Washington's letter: for we can send out two officers of equal Rank upon Parole Exchange: if not, redeliver our Persons to Col Beatys Charges.

The major and Mrs Harnage send their most respectful compliments—the former is busy in addressing General Washington which He requests you will be so kind as to forward; the latter desires you will return the Letter when convenient—

As an apology for this Trouble I must beg Leave to plead my situation.
Believe me Sir with Respect
Your oblig' d Humble Servant,
Erle Hawker
Capn 62d
Hon'ble Major General Gates.

One day later (13 October 1779), Mrs. Harnage also addressed rebel General Gates:

Sir

The generosity with wich you have on all occasions stretched out your hands to assist the unfortunate, makes me hope you will pardon this intrusion, and that you will from motives of compassion be induced to employ your influence both with his Excellency General Washington, and Colonel Beatty [rebel commissary of prisoners], to obtain either our parole exchange, or permission to go into newyork, when you Sir have perused the inclos'd kind Epistle I believe you will be of opinion that it was, and is, His Excellency's intention that Major Harnage and Capn Hawker, shou'd now go in on parole exchange:—Judge Sir what we feel after two years confinement, and separation from our Children, and all that is dear to us, to be debar'd an indulgence that we see granted to others:—the Respect, and best wishes of this family ever attended all your fireside:

I am sir—
your much obliged
and most obedient
humble servant
Honour Harnage

you will be so good to forward the inclos'd to
His Excellency: and to return me his letter?

Apparently Captain Hawker had friends in high places overseas. A letter written by a Mr. Anthony Merry to rebel diplomat Benjamin Franklin, dated Queen Square 24 December 1779, expressed his desire that Franklin forward a letter to Hawker, "a worthy officer of His Majesty's 62d Regiment of Foot." Merry hoped that Franklin, an old friend of his, could use his influence to obtain Hawker's exchange "as well as that of Major Harnage, as those two are such friends that one will never accept of a release, unless it extends to the other" and that the situation of those two officers was "miserable and destitute." Whether Franklin interposed in the affair or not is as yet unknown. But neverthelessl, nothing happened. It wasn't until 4 April 1780 that Washington wrote to Colonel John Beatty ordering him to "signify to Major Harnage and Captain Hawker of the 62nd British Regiment, my permission for them to repair to New York on their paroles, and take the usual and proper steps on the occasion." Finally nearing the end of the entire affair, Major Harnage wrote on 21 April 1780 what was intended to be a fond farewell to Heath (William Heath Papers):

Sir

Having through the indulgence of His Excellency General Washington obtain'd our parole to Newyork, we cannot leave this without assuring you that we shall ever retain a most grateful sense of the favor, and attention, you have shown this family! and that we shall at all times esteem ourselves particularly happy to receive your Commands, and pay all attention to your accommendations—

We expect to leave this about the end of next Week!—If you cou'd indulge us with a line to the Commanding Officer at Horseneck to spare us an escort from thence to the British lines we shall regard it as a special indulgence—

Capn Hawker and Mrs Harnage join in complimints to all your family, and beg to be remembered to Colonel [Daniel] Lyman and Major [Thomas] Cartwright—with all respect

And, not to be forgotten, Major Harnage sent a final "thank you" letter to Washington, dated 25 April 1780 (George Washington Papers):

Sir,

For a moment allow the intrusion of my most sincere, and grateful thanks, for the indulgence your Excellency has most generously granted us of a Parole to New york—we hope ever to carry with us, and retain the warmest acknowledgments and most pleasing recollection of the flattering attention you have paid to our wishes and distresses—

Capn Hawker and Mrs Harnage, join in assurances of respect being with truth
your Excellency's
much obliged
and most obedt
Hble Servant
Henry Harnage

From living for years in Cambridge, the Harnages and Hawker must have accumulated a lot of baggage. As they were preparing to depart, the major wrote one last line to Heath on 22 April 1780, seeking his assistance on this final snag (William Heath Papers):

Sir

I am asham'd and Concern'd, at being oblig'd once more to trouble you before we can depart hence; but dire necessity will I hope plead our excuse!— Finding it impossible to remove without the assistance of Two Continental Waggons; we have applied for them through Major [John] Hopkins to Quarter Master Genl Chase; the Major informs us, that, altho the Troops of the Convention were supplied with carriages on their removal to Virginia; yet in the present case it is doubted how far it wou'd be justifiable to comply with our request!— I do assure you Sir, that we wou'd not have made the Requisition had we conceiv'd the least impropriety in it, or was there a possibility of our reaching New-York without it; May we therefore hope, and request, that you will indulge us with your kind interposition in our behalf, as I do most readily promise, to be hereafter answerable for the payment of the hire of the said Two Waggons; shou'd they not be allow'd for, in the Settlement of accounts with the Conventional Troops—

Mrs Harnage and Capn Hawker join in assurances that at all times we shall retain and carry with us, a most lively sense of your kindness and Civilities!

During the entirety of the Harnage family letter writing campaign for freedom, the Harnages, Hawker, and Anne Reynell (although she was able to depart for home earlier than the others) remained in Cambridge Massachusetts, separate from the imprisoned 62nd Regiment. This was an understandable cause for concern given what may have been seen as an unwarranted absence by the British command. On 2 June 1779, Major Harnage took the opportunity to update British Major-General William Phillips of their situation:

…we thought it requisite to endeavour by every possible means to join the troops of the Convention at Charlottes ville. Accordingly both Capt Hawker and myself, after being absolutely refused permission of going to Virginia by water, have attempted to hire, on purchase conveyance for ourselves and Baggage, but very sorry am I to say that we have not been able to succeed, although I offered the immense sum of one hundred and fifty guineas—

We hope, Sir, our characters as officers are so well known to you as sufficiently to guard us against the least suspicion of our being willfully absent from our Corps—our close attention to our duty for four and twenty years past will, we flatter ourselves, evince the contrary.

It is impossible to paint a more disagreeable situation than we are in at present. On Mrs Harnage's account I own myself very impatient, for relief, which we hope to obtain through your influence.

A 12 September 1779 return of the 62nd Regiment in captivity listed both Harnage and Hawker as present with the regiment in Albemarle Barracks in Charlottesville, Virginia. This was of course not the case, and in fact, the return was signed by the regiment's senior officer present, Captain George Marlay. By what means this inaccuracy was allowed is unknown. After those many years suffering in captivity, the Harnages reached London on 30 November 1780. The major was entrusted with delivering dispatches to Whitehall from Commander-in-Chief General Sir Henry Clinton, to which papers was annotated "Major Harnage of the 62d Regiment will have the Honour of delivering my Dispatches. This officer's Services with the Northern Army will, I doubt not, insure him your Lordship's Favour and Protection." Not long after their return to England, the Harnages became somewhat famous. The story of the severally wounded major being brought to his waiting wife during the 19 September 1777 Battle of Freeman's Farm was published in Lieutenant-General John Burgoyne's A State of the Expedition from Canada, and it was popularized for the general reader in a chapter titled "Female British Heroism and Conjugal Affection Exemplified " in the March 1780 issue of the London Magazine.
Henry Harnage was made a lieutenant-colonel in the army on 17 November 1780, but never became lieutenant-colonel of the regiment.
Despite sickness, his severe wound, and years away from family, Major Harnage took command of the regiment after its repatriation to England in 1781. After decades of service with the 62nd Regiment, Harnage found promotion in another corps, becoming lieutenant-colonel of the 104th Regiment in March 1782 (which commsion he resigned in June). Harnage later became the inspecting field officer of the London Yeomanry and Volunteer Corps from 1803-1815. His letter book, kept while serving in that position, is in the collections of the Guildhall Library, London, Manuscripts Section (L 75.2 Ms 4951).
Henry Harnage's beloved wife, Honour, died nearly thirty years before him. Of their nine children, only two daughters survived the major. The elder daughter, Mary, married her first cousin, George Blackman, who was created baronet in 1821 and changed his family surname to Harnage at that time, thus making Mary the first Lady Harnage. One of their sons, Lieutenant and Captain John Lucie Blackman of the Coldstream Guards, was killed at Waterloo and buried in the orchard at Hougomont. Later in life, Henry Harnage succeeded to the family seat at Belleswardine House in Shropshire, England, where he died in 1826.
Our thanks to Lord St Helens, a descendent of Henry and Honour Harnage, for his generous sharing of Harnage family portraiture, genealogy, and biographical information.