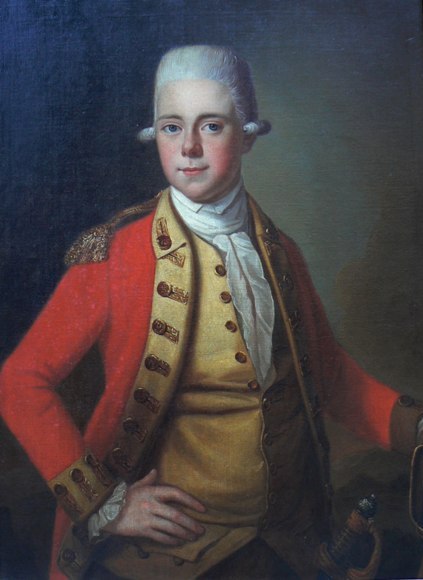 Lieutenant Stephen Harvey, 62nd Regiment of Foot, ca.1775-1776
artist unknown (English School)
© The Goulburn Trustees

Stepn Harvey Lieut, 62 Regt, his signature from a regimental paylist dated La Prairie, Québec, 24 February 1777
Nationality: English
Born: Chigwell, County Essex, England, November 1757
Regimental commission dates:
Lieutenant, 29 February 1776 (Lieutenant in the army 15 August 1775)
Mortally wounded: Battle of Freeman's Farm, 19 September 1777
Died: 19 September 1777
Teenager Stephen Harvey was a relative newcomer to the 62nd Regiment, born to one of the most prominent and influential "commoner" English families of any composing the officer corps of the regiment in 1777. Probably named after his maternal grandfather, Harvey was the third son of William (1714-1763) and Lady Emma (née Skynner, 1732-1767) Harvey of Rolls Park, Essex, who were married 14 August 1750. The Harvey family was of a very prestigious lineage: Stephen's Great-Great-Great Grandfather was the famous William Harvey, M. D. (1578-1657), physician to Kings James I and Charles I and discoverer of systematic circulation. His uncle, Edward Harvey (1718-1778), became a lieutenant-general and the adjutant-general to the forces. Many of Stephen's ancestors and relations, including his father, uncle, eldest brother (William, 1754-1779), and second eldest brother (Eliab, 1758-1830), became members of parliament. It was Stephen's older brother Eliab who, as captain of the massive HMS Téméraire, served in one of the greatest naval battles of all time—the 1805 Battle of Trafalgar—in which fight he conquered the French vessels Redoutable and Fougueux. Due to eminent service, Eliab Harvey was eventually knighted and rose to the rank of Admiral of the White.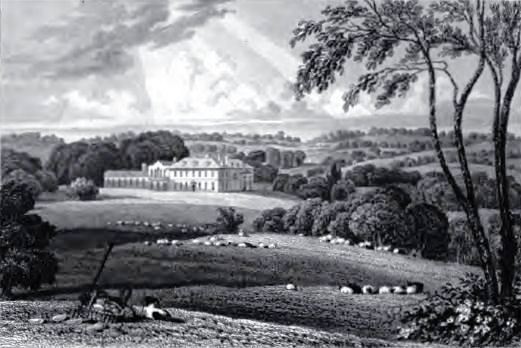 Rolls Park, Chigwell, County Essex, mid 1820s
Rolls Park was the manorial home of the Harveys of Chigwell, Essex. This
family seat, where Stephen Harvey was raised, was demolished in 1953.
Stephen Harvey began his career in the British army as a 17-year-old ensign in the fashionable 12th Regiment of Foot with a commission date of 9 December 1774. In less than one year, Harvey was able to secure a transfer to the 7th, or Royal Fusiliers, in which regiment he was commissioned a lieutenant on 15 August 1775. It's unclear why Harvey again decided to change regiments in such a short timeframe, but he secured a transfer to the 62nd Regiment on 29 February 1776. According to the last series of 62nd Regiment paylists filed before the Northern Campaign of 1777, Harvey was returned as the lieutenant of Captain George Marlay's company. Harvey fought with the 62nd Regiment in the Battle of Freeman's Farm on 19 September 1777, where he was mortally wounded. The last moments of his life were later recorded by Ensign Thomas Anbury (24th Regiment) in his Travels Through the Interior Parts of America (London, 1789):

In the course of the last action [Battle of Freeman's Farm], Lieutenant Hervey, of the 62d, a youth of sixteen [nineteen], and nephew to the Adjutant-General of the same name [Edward Harvey], received several wounds, and was repeatedly ordered off the field by Colonel Anstruther; but his heroic ardor would not allow him to quit the battle, while he could stand and see his brave lads fighting beside him. A ball striking one of his legs, his removal became absolutely necessary, and while they were conveying him away, another wounded him mortally. In this situation the Surgeon recommended him to take a powerful dose of opium, to avoid a seven or eight hours life of most exquisite torture: this he immediately consented to, and when the Colonel entered the tent with Major Harnage, who were both wounded, they asked whether he had any affairs they could settle for him? his reply was, "that being a minor, every thing was already adjusted;" but he had one request, which he had just life enough to utter "Tell my uncle I died like a soldier!" Where will you find in Ancient Rome heroism Superior!

Ensign Alexander Hay received Stephen Harvey's lieutenancy the day after the latter's death. An entry in American Wills & Administrations in the Prerogative Court of Canterbury, 1610-1857, compiled by Peter Wilson Coldham (Genealogical Publishing Co., Inc. 1989), records the following: "Stephen Harvey, of Saratoga, North America, Lieutenant in the 62d Regiment of Foot, bachelor. Administration to the brother, Eliab Harvey (Dec 1782)."
Stephen Harvey's surname was sometimes erroneously returned as "Hervey" in military records despite the well-established "Harvey" family name spelling.
Merchants, Medicine and Trafalgar: the History of the Harvey Family, by Richard Morris, O.B.E. (The Alderton Press, Lavenham, Suffolk: 2007), presents a phenomenal study of Harvey family lineage, history, and portraiture. Our thanks to Mr. Morris for his kind and generous sharing of Harvey family history and information, without whose assistance much would otherwise be unknown.