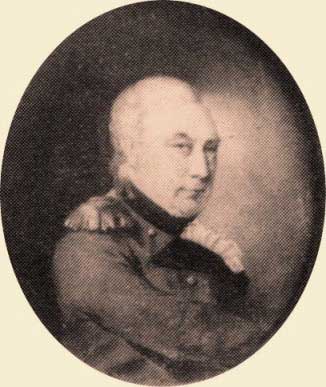 Captain George Preston Vallancey, King's Own Militia, ca.1805
attributed to John Raphael Smith (1751-1812)

Geo Vallancey Lieut, his signature from a regimental paylist dated La Prairie, Québec, 24 February 1777
Nationality: Irish
Born: 1749
Regimental commission dates:
Lieutenant, 1 September 1771
Adjutant, 12 October 1777
Captain-Lieutenant, 18 August 1778
Captain, 18 March 1782
Captured: Saratoga, New York, 17 October 1777 (Convention Army)
Exchanged with another officer: 15 October 1783 (with Captain James Vincent Mathias, half-pay, 62nd Regiment)
Died: barracks of the King's Own Militia, New Windsor, Berkshire, England, 20 December 1809
Although listed as having an Irish nationality, George Preston Vallancey was in fact born elsewhere (in England or Gibraltar) to his parents, the future famed General Charles Vallancey, chief of the Royal Engineers in Ireland (1725-1812), and Mary Virgin Vallancey (died Cork, Ireland, 12 July 1760). Some of George's siblings also served as officers in the army: older brother Charles (died 1785) served in the 16th Regiment and Volunteers of Ireland (many of his battle maps from the 1780-1781 Southern Campaigns are extant), while younger brother Rupert Preston (died 1779) served in the 55th Regiment.
George Preston Vallancey was one very talented officer, holding more varied staff positions than nearly any other officer of the entire army. He entered the British Army in his father's corps, as a Practitioner engineer/ensign in the Engineers in Ireland on 3 May 1765. In 1771, he took the unusual step of joining the infantry, and was commissioned to the senior lieutenant's position of the regiment's new light infantry company. He was still the senior lieutenant in the light infantry company commanded by Captain Erle Hawker when the regiment was transferred from Ireland to Canada in 1776. A general order dated 24 September 1776 appointed Lieutenant Vallancey as an "assistant engineer " of the Canada Army. This decision must certainly have been made based upon his prior training with the Engineers in Ireland (and his father's 1776 position as director and major of that corps). According to a general order dated 5 May 1777, Vallancey was also appointed "Assistant Quarter Master General" of the Canada Army, and as such was placed on the General Staff of General Sir Guy Carleton.
Before the start of the Northern Campaign of 1777, the 62nd Regiment's light infantry company experienced a change of command, no doubt due to Captain Hawker's age, delicate health, and inexperience in light infantry command, and Lieutenant William Cumberland Wilkinson's own inexperience. Vallancey remained, however, and was joined by his former 1771 light infantry junior lieutenant, John Jones. An order for the light infantry battalion dated Gilliland's Farm, 17 June 1777, recorded in a light infantry officer's journal (For Want of a Horse. George Stanley, ed. Tribune Press Limited, Sackville, NB: 1961), was given by "G: P: Vallancy—Adjutant." Therefore, it is assumed that Vallancey was also appointed adjutant to the British light infantry battalion under Burgoyne's command. Vallancey served with his battalion during the entirety of the Northern Campaign of 1777 and experienced combat in the Battle of Hubbardton (7 July 1777) and the dreadful Battle of Freeman's Farm (19 September 1777). During the second Battle of Saratoga (7 October 1777), in which General Burgoyne's senior quarter-master officer was captured (Captain and Deputy Quarter-Master General John Money), Vallancey, the senior assistant with the army, became Burgoyne's acting deputy quarter-master general. Days later, upon the death of the 62nd Regiment's adjutant, George Tobias Fitzerald, Vallancey received that staff officer duty as well. On 17 October 1777, Vallancey surrendered with the rest of the army at Saratoga. An undated return completed near the period of the surrender, titled "Return of the Officers & Servants belonging to Major General Phillips and his Family" (von Riedesel papers) lists Vallancey, Assistant Quarter-Master General, and his two servants: Nicholas Milander and William Plato.
According the 10th article of the Saratoga Convention agreed to between the combatant commanders, Burgoyne was authorized to send:

three officers not exceeding the rank of Captains, who shall be appointed by Lieut Gen Burgoyne to carry dispatches to Sir William Howe, Sir Guy Carleton and to Great Britain by the way of New York; and Major Gen Gates engages the public faith that these dispatches shall not be opened. These officers are to set out immediately after receiving their dispatches, and are to travel the shortest route and in the most expeditious manner.

The officer chosen to deliver the bad news of the Saratoga surrender to Sir William Howe was Lieutenant Vallancey. As Howe was in Philadelphia at the time, Vallancey needed safe passage to that city, and as such, was issued a pass from General George Washington on 31 October (George Washington Papers):

The Bearer Captain [sic] Vallancy, a British officer, has permission to go into Philadelphia. When he returns, by applying to me, he shall obtain a passport for his safe conduct to General Burgoyne in the Massachusetts Bay.

Upon his return from Philadelphia, Vallancey made a stop to meet with Washington on 12 November, informing him (and subsequently Burgoyne), that British arrangements were being made to transport Burgoyne's prisoner Convention Army out of America; these plans never came to fruition. Rebel General William Heath (overall commander of Burgoyne's prisoner army) wrote to George Washington on 26 November 1777, informing his commander in chief that "General Burgoyne is much pleased with your treatment of Lieut. Vallency, which he says was Polite and noble." Soon after Vallancey's return to the Convention Army, he continued the tiring and important duty as its head quarter-master. He was able to achieve promotions, first to captain-lieutenant and then to full captain of a company (upon which he resigned his regimental adjutancy). Unfortunately for Vallancey, his talents in this important army-level position were too valuable, and he remained in America long after the 62nd Regiment's 1781 repatriation to England; various regimental records listed his being "absent on duty in America" and "Prisoner in America," as well as"Assisting [the] Qr Mr Genl with General Sir Henry Clinton in America." Letters written by and to Vallancey place him in Yorktown, Virginia, in the late summer and fall of 1781, as he was serving as an assistant deputy quarter-master general in Charles, Lord Cornwallis's army.

Geo Vallancey, Ast. Qr. Mr. General, his signature from an inventory of clothing and
necessaries for the Convention Army dated Cambridge, Massachusetts, 25 September 1778
Upon his return home, Vallancey soon exchanged his captain's commission with another captain of a regiment on half-pay, effectively retiring from active service. Vallancey rejoined the army on 31 May 1787, when he was able to trade out of half-pay for a captaincy in the 46th Regiment; he served in that capacity into the 1790s. Subsequent to that, Vallancey continued to serve in various staff and British militia capacities, including becoming an aid-de-camp to General David Dundas.
Vallancey married Margaret England (1760-1789) in 1786, and they had at least three children: Margaret, Frances, and Richard. His wife Margaret was the younger sister of two officers who also served with Burgoyne's ill-fated army in 1777: Captain Richard James England (1745-1812) and Lieutenant Poole Hickman England (1754-1813), both of the 47th Regiment of Foot. It is perhaps through this connection that Vallancey met his future wife, whom he outlived by 20 years. A demonstration of this probability comes in the form of a personal letter written by Vallancey to Poole England fom Cambridge on 8 October 1778 (Haldimand Papers):

My good & worthy Friend &c &c

I am happy in ma [? (my)] misere [? (misery)] in having it in my power of addressing my Dr Poole [England] & his amiable Wife [Ann England (née Sargeant)]—by Cap: [Samuel] Willoe I wrote to you upon various subjects at present I have very little to say but to assure you of constant & everlasting friendship——your Brothers are both well—Dick [Richard England] is preparing to go to New York upon a visit—he had a Letter from Patt [Patrick England, 5th Regiment] the other day & perfectly well he is high in the Lieutenants & looks sharp for a Company, those younkers of ours think because they are in the great army they must get the start of us, however you will be happy I'm sure in hearing that I have disappointed mine [Rupert Vallancey, 55th Regiment], through the intersession of Major g. [William] Phillips & by his recommendation I am Cap. Lieut of and Adjutant to the 62d —how happy shall I be when I can rejoice with you upon the same subject—In my last I gave you many Commissions in this I have only to beg of you to protect my Letters, I shall be happy to have them by some Opportunity—

Adieu my Dr Friend present my best & sincere regard & affection to Mrs England and be assured I still remain

Your affectionate Friend
Geo Vallancey

We are doing every thing for your exchange &

After the death of his first wife, Vallancey married again, to Isabella Humphrys (ca.1772-1849), in 1792, and they had at least three children: Isabella, George, and Henry.
Despite his own repeated and well-established spelling, as well as that of the Vallancey family, Vallancey's surname is commonly spelled "Vallancy" in some 18th-century British Army records.
Our thanks to Dr. Janice Wilson of Australia, a great-great-great-great granddaughter of George Preston Vallancey (through his son Richard, of the 1st or Royal Regiment of Foot), for her generous sharing of Vallancey genealogy and biographical information.