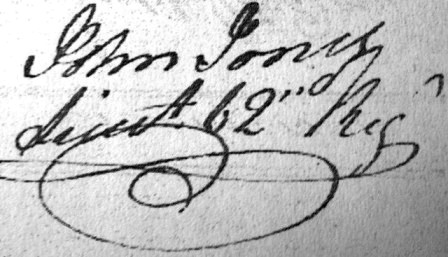 John Jones, Lieut 62nd Regt, his signature from a regimental paylist dated Ballinrobe, Ireland, 8 July 1775
Nationality: Welch
Born: Niwbwrch, Anglesey, Wales, 18 July 1753
Regimental commission dates:
Ensign, 9 December 1767
Lieutenant, 1 September 1771
Wounded: Battle of Hubbardton, 7 July 1777
Captured: Saratoga, New York, 17 October 1777 (Convention Army)
Promoted into another regiment: Captain-Lieutenant, 9th Regiment, 1 September 1779
Died: Pant Hywel, Llandegfan, Anglesey, Wales, 17 November 1823
John Jones was the second of four children born to the Reverand Owain and Catherine (née Vincent) Jones. Even at age 14, John expressed "a strong inclination to get into ye Army," and his father, well respected but having little money, had to rely on his family connections to lobby for John's ensigncy. John Jones's military service began in the 62nd Regiment of Foot in 1767 and within a few short years, he gained the rank of lieutenant. During the American War for Independence, Jones sailed from Ireland to Canada with the rest of the regiment in 1776 and served through the year against the rebel invaders. Near the beginning of 1777, the 62nd Regiment's light infantry company underwent a significant change of command. Captained by Erle Hawker, with Lieutenants George Preston Vallancey and William Cumberland Wilkinson, Hawker and Wilkinson transferred to a battalion company and were replaced by Captain Alexander Campbell and Lieutenant John Jones, respectively. Jones was in fact a veteran light infantry officer, having been assigned as the original junior lieutenant of that company when it was first formed in 1771. During the Northern Campaign of 1777, Jones was again with the company and was again serving in his original position as its junior lieutenant.
Jones fought in the Battle of Hubbardton (7 July 1777), in which battle he was severely wounded. According to the 1796 medical deposition recorded by the man who treated Jones in 1777, Doctor John McNamara Hayes, the musket ball had "penetrated the left breast near the nipple, and passing thro' the Lungs to that side, grazed the inferior edge of the scapula near to the Vertebra where it went out." Dr. Hayes further stated that Jones's recovery "was very uncertain for a number of years but by great care and attention he is now in a tolerable state of health."
Jones remained with Burgoyne's army for the duration of the Northern Campaign of 1777, but due to his severe wound it is unlikely that he continued to see active service. He surrendered with the rest of Lieutenant-General Burgoyne's army at Saratoga on 17 October 1777.
During his time as a prisoner with the regiment, Jones was able to get a promotion into another regiment (albeit one which was also in captivity). Although official dates for his promotion contradict, Jones became the captain-lieutenant of the 9th Regiment on 1 September 1779 (some records incorrectly give the date as 1 January 1781). From there, he became a captain in the 9th Regiment on 28 September 1781. He exchanged commissions with Captain Alexander Buchannan, an officer from the late 95th Regiment, on 21 July 1784, thereafter retiring from active service.
John Jones married his cousin, Jane Vincent (1751-1812) of Llandegfan, Anglesey, Wales, on 22 July 1789, and they had three children: the Reverend James Vincent (1792-1876), Anwyl (1793-1867), and John (1794-1795).
Our thanks to Matthew Keagle, who provided transcriptions of important letters related to Jones's military service and family history, without which this biographical sketch could not have been written.